By Ryan Alessi
It's not often that the Harrisonburg Electric Commission's monthly meeting attracts a standing-room-only crowd.
Yet, Tuesday morning, more than 20 people crammed into the small conference room at the utility's Operations Center on North Liberty Street. Some were solar installers, dressed in bright-colored t-shirts with their employers' logo emblazoned on them. Others were solar advocates or homeowners with arrays on their houses.
They squeezed themselves around the room to see what the five-member commission would decide to do with its policy of compensating future residential customers who install solar panels that pump electricity back onto Harrisonburg's power grid.
A press release the utility issued in April had whipped up concern among solar advocates that Harrisonburg residents who installed panels starting in 2020 wouldn't reap the same benefits of credits on their bills as current customers with solar panels.
"I think the presumption behind that was they were going to make it less attractive for solar because of the concern for HEC's bottom line," said Jeff Heie, a solar advocate and program coordinator of Give Solar.
Ultimately, though, the five commissioners unanimously agreed Tuesday to lock in its current approach, allowing customers who add arrays in the future to continue to get credited on their bills for the energy they generate.
Meanwhile, the commissioners also committed to continue examining other ways to embrace renewable energy developments and are expected to debate its next steps at their September meeting.
"The commission is currently discussing and exploring a lot of different pathways to solar," Commissioner Maria Papadakis said.
Papadakis, a JMU professor who specializes in energy efficiency and conservation, was appointed to the commission in February. She has met with Harrisonburg Electric Commission General Manager Brian O'Dell and attended a national conference as part of an effort to explore ways to encourage renewable energy and also to figure out how to incorporate solar developments without denting the municipal utility's bottom line.
And that's the balance commissioners said Tuesday that they wanted to maintain: how to continue to encourage solar and other renewable energy sources but not jeopardize the financial standing of the municipal utility that's been able to provide some of the cheapest electricity in Virginia while sending back about $5 million each year to the city coffers.
Customers who have solar panels that generate electricity onto the power grid get credited on their accounts for that power under the HEC's current policy, known as net-metering. Depending on the solar installation's size and scale, it could end up covering the customer's entire electricity bill — revenue the electric commission won't get even though it still maintains the powerlines and infrastructure.
For years, the HEC had a policy that capped the total share of residential solar arrays to 1 percent of the power Harrisonburg Electric Commission customers use at peak demand. Earlier this year, the commission temporarily raised that to 2 percent through the end of the year.
After Tuesday's meeting, however, 2 percent will be the new cap for the foreseeable future and no expiration date for the net-metering policy.
Locking in the 2% cap — for now
The commission announced in an April 15 press release that it was re-examining the net-metering policy for residential customers and indicated it might change for anyone who installed an array starting in 2020.
That uncertainty sparked a buzz among the solar community.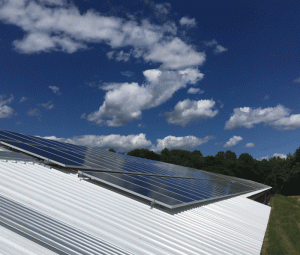 "Clearly it was the most people I have seen at the meeting, but I can't say it was not expected," Brian O'Dell, the HEC's general manager, told The Citizen.
Harrisonburg has 126 residential customers who have installed solar arrays that generate a total of 1,329 kilowatts, with another 70 kilowatts worth of arrays are still pending. That works out to be just shy of 1 percent of the utility's peak load, O'Dell told the commissioners.
While that might not sound like a lot, that share is more than the other 15 municipal utilities in Virginia — combined, O'Dell said.
Demand also seems to be picking up, he added.
Last year, 21 residents added solar arrays and already in 2019, that same number have been approved, O'Dell said at Tuesday's meeting.
Even at that pace, though, O'Dell said "it would be several years" before there would be enough residential solar developments to hit the 2 percent cap, which is one of the reasons several commissioners said they felt comfortable with keeping the current policy in place for the foreseeable future.
For solar advocates, it was a welcome move.
"I think what they've done is a relatively positive first step is to take care of the market uncertainty they caused with their announcement this spring," said Aaron Sutch, of Solar United Neighbors of Virginia.
Sutch was among the 20 solar customers and employees of at least five solar installation companies that attended Tuesday's meeting.
"Why we had so many people in the room was because of all the benefits solar provide," he told The Citizen. "Reducing wholesale power. Reducing stress on the grid."
And, in a brief statement to the commission, Sutch also told the commissioners Tuesday that they should also consider the jobs solar companies generate the financial ripple effect in the local community.
Where solar fits in Harrisonburg
While the electric commission decided how to handle residential solar projects in the foreseeable future, work is expected to continue behind the scenes — and in public — over the next several months for a longer-term strategy.
O'Dell and Papadakis, for instance, plan to continue their discussions from this spring about various strategies.
"I think the next step that Brian and I are working on is this sort of big-picture approach to pathways to solar," Papadakis said at Tuesday's meeting. "We have multiple things that we're looking at. Each of those has costs. But each one of those does attractive things for us in terms of renewable generation."
O'Dell told The Citizen in an interview Wednesday that he hopes they'll be able to present potential strategies to the commission by the September meeting "assuming the information we need is available in that time frame." Specifically, he said they're trying to collect market information about renewable energy supplies, rates and capacity in the region.
"What we hope – and we have discussed this and made statements in the past — is that we hope we can have the opportunity for our customers to participate in a community solar project," O'Dell said. "We hope that we'll be able to buy some renewable energy."
But those projects have costs, he said. And they also come with the potential complication of the commission's contract with its main power supplier: Dominion Energy.
"That has always been the instrument that we've been having to follow," O'Dell said, and getting power from any other major sources comes with certain stipulations that the commission will have to consider.
Heie, the solar advocate, said he's hopeful the Harrisonburg Electric Commission members will also weigh input from the public.
Commissioners Alex Gabbin and Hobey Bauhan both made it a point at Tuesday's meeting to say they wanted the process to include a public comment period as the commission considered its next steps on a renewable energy approach.
Heie said he was encouraged by that, especially when it comes to balancing environmental effects against the power the commission buys from Dominion, which has diversified its energy generation in Virginia to include some renewable sources but still heavily relies on coal and gas-fired power plants.
"I think HEC has operated very effectively for a long time at their mission of providing reliable and affordable energy since their founding in 1956, but I think we're at a different point in time when I don't think it's appropriate to ignore the climate effects," Heie said. "What impacts does the electric generation that the HEC is selling onto the local Harrisburg grid have on greenhouse gas emissions?"
As part of the renewable energy discussions, the commission also is expected to take up the question of what to do when the share of power generated by residential solar customers gets close to that 2 percent threshold.
Heie said he's like to see the commission raise that cap to 5 percent.
O'Dell said at Tuesday's meeting that the financial effect of giving credits back to that many residential customers as part of the net-metering program would cost about $845,000 in revenue, but that figure would drop to less than $300,000 once the savings from buying Dominion's power was factored in. That amounts to about one-half of 1 percent of the commission's revenue, he said.
"Personally, for me that would fall within the cost-of-doing-business threshold," Papadakis said.
"I would agree on that," O'Dell said.
As a result, renewable energy advocates say they're going to continue to push the commission to go in that direction.
Sutch, for instance, has a scheduled call on Monday with O'Dell and Commission President Daphyne Thomas.
"We're going to have discussions," Sutch said, "and really get to the heart of how we can work toward win-win solutions."
CORRECTION: An earlier version of this article misspelled the name of Harrisonburg Electric Commission member Hobey Bauhan.
---
Journalism is changing, and that's why The Citizen is here. We're independent. We're local. We pay our contributors, and the money you give goes directly to the reporting. No overhead. No printing costs. Just facts, stories and context. Thanks for your support.