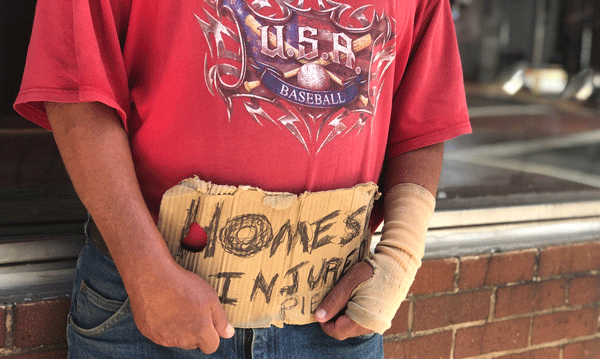 By Bridget Manley
On warm spring and summer nights, the outlines of several people bedded down for the night are plainly visible outside Our Community Place.
Many of those experiencing homelessness in Harrisonburg don't have a lot of options for places to sleep, so they tuck themselves into quiet corners and shadows.
"At O.C.P., we've had people sleeping on our property," said Eric Olson-Getty, director of development and administration with Our Community Place. "They are technically not supposed to be doing that. We have nobody there to sanction it or keep it safe or monitored."
Besides the immediate issues of panhandling, fighting and trespassing that downtown business owners and customers have been experiencing in the last few months, city leaders have ramped up discussions about potential ways to address to the complex problems of homelessness.
Last week, in response to a recent uptick in incidents, including one involving the death of a dog, Harrisonburg Mayor Deanna Reed called urgent meetings Tuesday and Wednesday to gather stakeholders, such as Olson-Getty and business owners and police, to hear concerns and ideas to address long-term systemic issues that people who are homeless face.
But for those who sleep in the shadows at Our Community Place and elsewhere around the city, it can feel like an insurmountable task to overcome find an affordable place to live and overcome compounding factors of addiction, wage discrepancies and mental health issues that keep people living on the street.
"It's a nightmare"
Dave Knapczyk worked in construction most of his life. After he broke his ankle and injured a shoulder, he lost his home. He has been homeless since August 2018.
"I couldn't work, couldn't pay my bills, and I lost everything," Knapczyk said. "I've had to leave everything in storage."
Knapczyk has been panhandling in the city for a little cash to help him buy food and a pair of jeans. It allows him to have enough to live.
"I hate doing it," he said. "I don't stay here long. I make a couple of bucks, and I'm on my way."
Sometimes that means making his way to Burger King for a cheeseburger and, in the winter, a chance to stay warm for a few hours.
He said he's seen some others who are experiencing homelessness fighting, swearing and causing disturbances, and he's afraid it gives everyone a bad name.
"There's a lot of police officers in this town that care about the homeless," Knapczyk said. "They come and they talk with you, they spend time with you. … There's a lot of good cops. But then there's some — they judge all homeless people, and we're not all bad."
He said Strength In Peers has helped him file paperwork for assistance to receive disability benefits, including potentially housing, and the organization provides for him to see a psychiatrist for free.
"It's been rough, especially in the wintertime," he said. "They've got Open Doors where we sleep at night, but during the day, sometimes there's nowhere to go."
But Knapczyk is optimistic that methodically going to the appointments and finishing the paperwork will eventually lead to a roof over his head. In the meantime, though, he said he feels "horrible."
"It's a nightmare," he said. "But I know it will get better. I just gotta keep working at it."
One step at a time
The wider issue of homelessness is something that has been on the mayor's agenda for some time.
In January, she made affordable housing in the city a main priority going into her second term as mayor. She has held panels on affordable housing, and the issue was one of major discussion at the city council's retreat in February.
"We know we have a homelessness crisis in Harrisonburg. We need to provide more services to help our people in need," Reed said in an email to The Citizen. "We need to implement a comprehensive affordable housing plan. We need to make sure people feel welcome and safe in our city. We need to fill in the gaps, that may mean we need to look into low barrier shelters or provide more mental health, trauma and substance abuse services."
The recent issues involving downtown businesses prompted Reed to get organizations to the table last week, said Michael Parks, the city's communications director. The goal was to also get input from them about related issues such as affordable housing and mental health care.
Parks said that included discussing questions like: "How can we better provide services to individuals in our community who are homeless? Where are the gaps in services, where are the things we are doing well, where are the things we need to be focusing more on, and how can different organization contribute to that?"
Shannon Porter, executive director of Mercy House, Inc., attended the meeting last Tuesday. He said he believes the systemic problems surrounding homelessness calls for attacking them on multiple levels.
"There's got to be a continuum of efforts that are addressing things like mental health capacity in our community, substance abuse treatment in our community," Porter said. "Neither of those things is adequate in our community."
A case for low-barrier shelters?
For people struggling to find a place to sleep, there are numerous barriers to services many others take for granted.
"When you have people here in this community that don't have insurance and don't have the ability to navigate the [mental health] system, there's almost nothing for them," Porter said.
Olson-Getty said one underlying problem among clients at Our Community Place is developmental trauma, mixed with socioeconomic factors like a lack of affordable housing and low income.
"The lack of affordable housing — that's a big one, because even people who are able to work or have some kind of income aren't able to use that income to access resources like housing," Olson-Getty said.
Porter also said he agreed that affordable housing is desperately needed in Harrisonburg.
"There are no efficiency apartments in this community that are affordable," Porter said. "There are no one-bedroom apartments in this community that are affordable. For a single mother of two to work in this community and afford a two-bedroom apartment, they cannot physically work enough hours in a week at a minimum wage job to be able to sustain that housing. That's an absolute fact."
Olson-Getty said the city also needs what's called a "low-barrier shelter" — a place that will take in people as they are, perhaps with pets, and without mandated drug testing or requiring them to present a government identification card.
"That's the thing I'm going to keep hammering on, because if we don't provide that, and if we then take an enforcement approach to this problem, then we are criminalizing homelessness," he said.
Rachel Howdyshell, executive director of Open Doors, said for so many experiencing homelessness, there is no support system in place when someone takes a sudden financial hit — such as loss of job or an expensive medical bill — and it snowballs from there.
A starting point
Chief of Police Eric English, who attended both meetings last week, said he agrees with many potential solutions discussed so far.
"There's no way we can arrest people and think it's going to go away," English said. "Homelessness is here. The good part about it is that we were able to from both sides — the impact this is having."
He said city leaders will be better equipped to implement policies and do so with compassion if they can learn about the problems from multiple angles.
"I think that conversation has never taken place, where you can hear both sides," English said. "We are always talking to one individual, talking to the other side and now we get to hear the whole picture."
Howdyshell, from Open Doors, also said she was encouraged by the meetings even if they didn't yield concrete solutions or even promises.
"I have done this job for five years and worked with Open Doors in some capacity for 12," Howdyshell said. "I've never been on a first name basis with a mayor, who was willing to be part of this and be on our team with us. And so, although I don't know that we have specific information about specific responses and where we're going to go from here, I can say that I feel more strongly about the partnership that those of us working with the homeless population have with the city."
Reed said she intends for the city to "continue to provide services for our people in need."
"By having different stakeholders at the table, we were able to discuss needs and possible solutions," she said. "We know we need to fill in the gaps and I believe we have a clear vision of what those gaps are."
For Knapczyk, who has resorted to panhandling as his disability application is in progress, it's encouraging to know that city leaders are focused on addressing homelessness.
"That's the good thing," he said. "I met the mayor a couple of times … and the vice mayor (Sal Romero). He comes and talks to the homeless. He's a really nice guy."
But he said he would really like to see Harrisonburg offer a shelter where could go year 'round and keep his possessions and sleep.
"That's the biggest thing right now," he said, "because it's really rough."
---
Journalism is changing, and that's why The Citizen is here. We're independent. We're local. We pay our contributors, and the money you give goes directly to the reporting. No overhead. No printing costs. Just facts, stories and context. Thanks for your support.