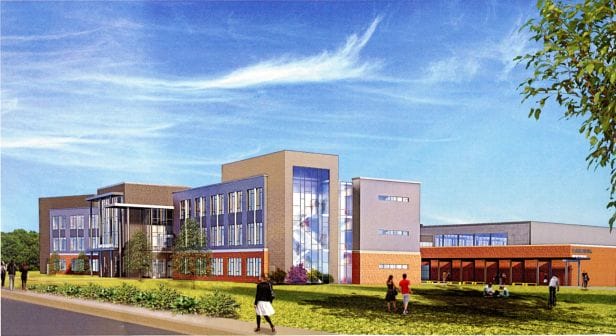 By Randi B. Hagi, senior contributor
Harrisonburg's new high school will be built with an eye toward providing a focus on science, technology, engineering, and math (STEM), while the existing high school will emphasize fine arts, school officials announced Tuesday.
Superintendent Michael Richards presented an update on the process at Tuesday evening's school board meeting — the first major indications of how the high schools will function together as the design phase for the new campus continues. The new school is slated to open in the fall of 2022. And the architects' progress also sets up a final round of decisions the school board will have to make in the next month or so that will determine the final price for its construction.
Richards commended the "robust" public participation so far, including 125 participants who attended 12 programming input meetings.
He also explained the "four pillars" now guiding the design process, which came out of those input meetings: representation, individual school identities, efficient use of resources and equal opportunities for all students.
"The students in particular were very strong in that opinion, in that desire" to have two schools with individual identities, he said.
School Board Chair Deb Fitzgerald also thanked the grassroots group For HHS2 for submitting more than 100 survey responses to the design committee from parents and community members who were not able to attend public meetings.
Aiming to 'complement each other'
Richards said emphasizing different curriculum at the two schools will help efficiently deploy the district's resources. For example, this means they can install in-floor wiring at the new school to accommodate "state of the art" computer science facilities, while maximizing use of the auditorium performing space at the existing high school.
Students will have opportunities to be bused across town to use these specialized spaces, regardless of which school they attend. The new school will be on a plot of land between I-81 and South Main Street, while the existing high school is a couple miles away on Garbers Church Road.
"We have a great transportation system," Richards said, which will allow the schools to share some of these more "complex facilities."
"It does give a better perspective of how the two schools would complement each other," school board member Kaylene Seigle said.
Lest the new school get all the attention, Kristen Loflin, another board member, said she's looking forward to "putting a lot of love into fine arts" at the existing school.
"We will provide equal opportunities for all students across the city," Richards said.
So when will the price be known?
About 20-30 percent of the new school's design drawings are complete, according to Craig Mackail, assistant superintendent of operations and school safety.
Now that the design committee, which formed in May, has approved this first round of designs, Grimm & Parker Architects will flesh out the plans to 60 percent of the final design documents. At that point, they will work with Nielsen Builders, Inc. to determine the total cost for the school's construction, which Mackail said to expect "probably the last week of August."
That price will come in the form of a menu, with some sections being optional.
"There will be some hard decisions to make then," Fitzgerald said.
School board member Obie Hill said transparency has been — and will be — important throughout this process.
"Just being honest about what we're able to do … is a very important piece of this," Hill said.
After those final design decisions are made, Mackail said the board will then negotiate with the contractors and architects on a comprehensive agreement with a fixed maximum price, barring any change orders coming from the board.
School board member Nick Swayne said he was "struck by the collaborative intent of the design team," whose meetings included the builders, architects and subcontractors.
Fitzgerald said involving all those parties in this planning phase is a happy byproduct of taking the "design/build" approach, laid out in the Virginia Public-Private Education Facilities and Infrastructure Act (PPEA), which the school board decided to proceed with in February.
Updates about the design process can be found at https://harrisonburg.k12.va.us/district/3190-New-HS-Project.html.
New organizational chart
Richards also presented the board with a new central office organizational chart, which included a few changes he said are aimed at demonstrating his commitment to student equity – a value he has vocalized since being hired in March.
It includes a little restructuring so that one new position – director of equity and community engagement – will join the superintendent's office, contingent upon approval of the 2020-2021 budget. Richards said Sal Romero would fill this position, which is basically a promotion of his current role as coordinator of family and community engagement. Romero also is an elected member of the city council.
The chart also creates a new position under the director: the Coordinator of Interpretation and Language Services.
Richards said he'd revisit the chart at the end of the year, and probably "make some adjustments."
Also at the meeting:
Richards promoted Harrisonburg High School Assistant Principal Lisa Warren to associate principal, adding that she would be in "the lead" in planning the new high school.

Amy Sabarre, director of STEM education for the district, was recognized for being appointed by Gov. Ralph Northam to the Virginia STEM Education Commission, which he created earlier this year. It prompted Richards to quip that other school districts in Virginia "may have more resources, but they don't have more talent."

Myron Blosser, a science teacher at the high school, was lauded for being a state finalist for the 2019 Presidential Award for Excellence in Mathematics and Science Teaching. When asked to say a few words, Blosser recounted his first year of teaching — in Strasburg – when he taught the first lessons directly from the textbook, gave his students a test, and then asked if there were any questions. "But, like, like, are there any atoms in this

room

?" one student asked.
"And that began my evolution as a teacher," Blosser said.
The board unanimously approved setting a tuition of $1,200 per year for students who have moved outside the school district but want to continue attending city schools, provided that there is space in those schools – thereby precluding Harrisonburg High School. This regulation is set up to be reviewed by the board annually.
---
Journalism is changing, and that's why The Citizen is here. We're independent. We're local. We pay our contributors, and the money you give goes directly to the reporting. No overhead. No printing costs. Just facts, stories and context. Thanks for your support.