By Randi B. Hagi, assistant editor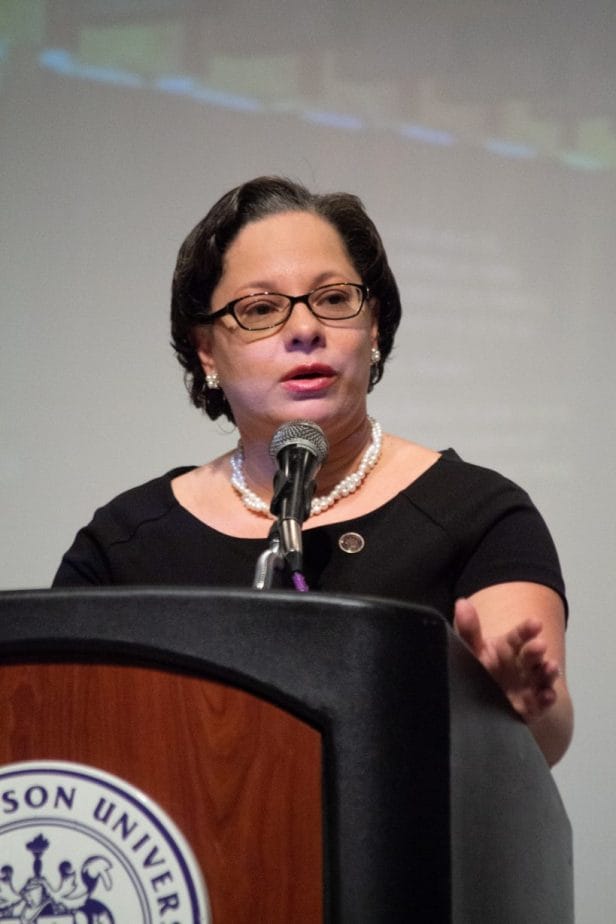 Members of the Charlotte Harris community remembrance project, which seeks to memorialize the African American woman who was lynched in Harrisonburg in 1878, joined forces Monday with a statewide commission to place a brighter spotlight on Virginia's dark history of racism and lynching. 
Members of Virginia's Dr. Martin Luther King Jr. Memorial Commission and local participants led a public forum at James Madison University's Memorial Hall, which drew more than 100 attendees.
The state commission recently started a working group to address lynching. Working group members Gianluca De Fazio, a JMU professor, and state Sen. Jennifer McClellan, a Democrat from Virginia's 9th district that includes Richmond, led Monday night's event. McClellan said lynchings were a form of racial terrorism that were "used to keep African Americans in their place."
"When a community suffers a trauma, you never heal if you don't first acknowledge that it existed," McClellan said.
De Fazio's research in 2017 helped bring back to light the almost forgotten lynching of Charlotte Harris, as well as more than 100 other lynchings in Virginia during a 50-year span. Details about those public racially-motivated murders were outlined on the website Racial Terror: Lynching in Virginia, 1877-1927.
Harris was murdered on March 6, 1878, when a mob in dragged her out of the Rockingham County jail, where she was accused of helping incite the burning of barn. The mob hung Harris from a tree, but an investigation into her murder ended without any indictments.
On Monday, McClellan and De Fazio were joined on the panel by Amy Snider, assistant to the city manager, Bradford Dyjak, director of planning for Rockingham County, Steven Thomas, of the Northeast Neighborhood Association, Harrisonburg Mayor Deanna Reed and Vice-mayor Sal Romero.
Thomas said that the effects of lynching are still felt today, reading an excerpt from a report by the Equal Justice Initiative – the organization based in Montgomery, Alabama, that provided the framework for the Charlotte Harris remembrance project.
"The administration of criminal justice in particular is tangled with the history of lynching in profound and important ways that continue to contaminate the integrity and fairness of the justice system," Thomas quoted from the report.
After Thomas and others gave brief presentations on racial terrorism in Harrisonburg and across the South, attendees asked questions.
Several talked about how this history should be included in school curricula.
"It's really up to you, the citizens, to hold your school system accountable and tell them, 'we want this taught,'" McClellan said.
She also referenced the newly-formed Commission on African American History Education, which Governor Ralph Northam has tasked with reviewing and recommending improvements to how African American history is taught in Virginia schools.
In addition, another Harrisonburg woman will soon be memorialized, McClellan said.
Lucy Simms, the African American educator, will be featured on a Richmond monument "to emancipation and freedom" along with other African American Virginians who contributed to ending slavery and the Civil Rights movement.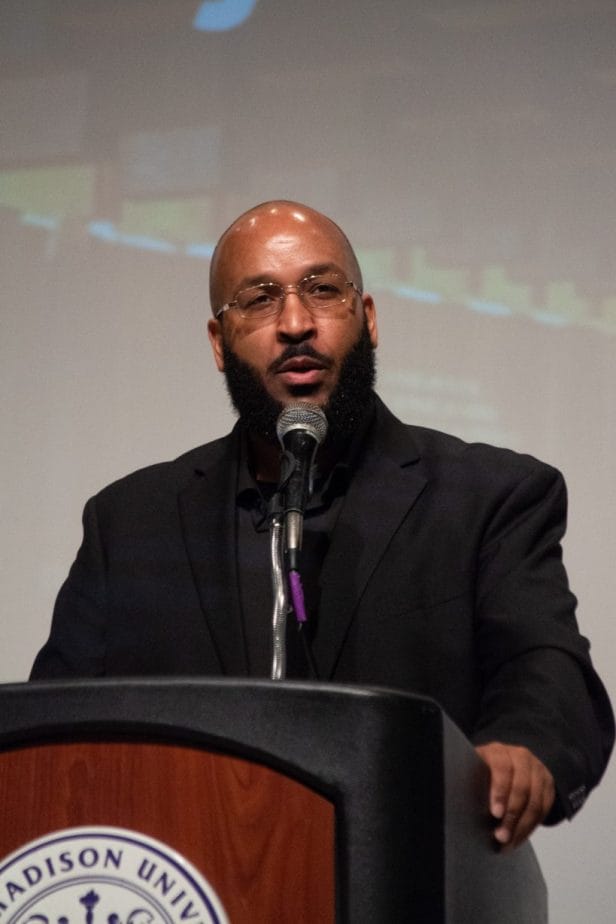 "We do have wounds and we need to heal them," said Kishia Tutt, a teacher at Montevideo Middle School.
She asked if local residents could make a group "pilgrimage" to the National Memorial for Peace and Justice in Montgomery, Alabama, the current home of Charlotte Harris's memorial.
Thomas said the remembrance project has considered it.
"Let's make it happen!" Tutt said, to a roomful of applause.
Romero, who has been tapped for promotion to a new position in the city schools – director of equity and community engagement, said that the school division's upcoming strategic planning process is an opportunity to "embed these values" in the classroom.
Journalism is changing, and that's why The Citizen is here. We're independent. We're local. We pay our contributors, and the money you give goes directly to the reporting. No overhead. No printing costs. Just facts, stories and context. Thanks for your support.