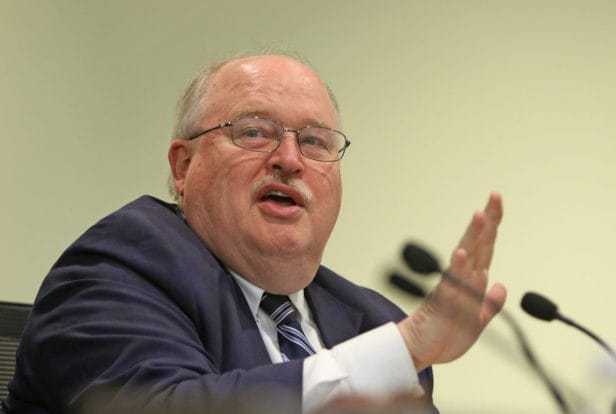 By Chip Lauterbach, contributor
The four remaining members of the Harrisonburg City Council on Thursday unanimously appointed Richard Baugh, a former mayor and council member, to fill the council seat opened by last week's sudden resignation of George Hirschmann.
During Thursday's special meeting, the council voted to accept the resignation of Hirschmann, who announced May 25 he was stepping down because of health reasons. Then the council members went into a closed session that lasted roughly 10 minutes before returning to name Baugh as the replacement. The council also granted City Attorney Chris Brown the authority to file for a special election in November to select a person to serve out the remaining two years of Hirschmann's term. 
Mayor Deanna Reed said the people of Harrisonburg needed a replacement who understood the minutiae of how the city council works, which is why the council unanimously selected Baugh.
"Richard brings a lot of experience and knowledge to this council," Reed said. "He really is the best fit for right now, and I'm excited to have him back."
A local attorney, Baugh previously served on the city council from 2009-2020 and served terms as mayor and vice mayor in that span. He was also the previous chair of the Harrisonburg Democratic Committee. In 2020 he came in fourth place during the Democratic Caucus, losing his seat after almost a dozen years of service. He has most recently served on the city's planning commission, which holds hearings and makes recommendations on zoning issues.
Hirschmann was the lone independent on the council, and Baugh's appointment means all five council members will be Democrats for the next five months.
Vice Mayor Sal Romero said he felt Baugh's qualifications and understanding of how the local government operates made him the natural choice.
  "There's gonna be a very steep learning curve for anybody who has not done this work before," Romero said. "That was an important consideration for myself. I have worked with Richard on this council, and I think we're all going to be able to work well with him over the next several months."
Council member Laura Dent, one of the three Democrats who finished ahead of Baugh in the 2020 Democratic primary, made the motion to nominate Baugh on Thursday evening. Like the other members of the council, Dent said she believes Baugh's prior experiences in city leadership will ease the council until voters select a replacement in November.
"I've been really impressed with Richard's depth of institutional knowledge and thorough analysis in working with him on the planning commission as well as his whole history previously on City Council."  Dent said. "Speaking for myself, I am thrilled to have the opportunity to overlap with him." 

More elections
With scheduling of the special election for Hirschmann's seat, the Harrisonburg Democratic Committee is planning a caucus for July to decide the party's nominee for that seat, said Alleyn Harned, chair of the Harrisonburg Democratic Committee.
Baugh, who wasn't present at Thursday's meeting, did not immediately return a request for comment about the appointment or whether he plans to run in the special election.
Virginia Republicans will hold a primary on June 21, but so far no Republicans have come forward to run in the city's council races this year.
One independent has announced for the two seats that already were on the ballot this November.
The tapping of Baugh comes just two days before Democrats hold a caucus on Saturday. Four candidates are vying to be the party's nominees for the two spots currently held by council member Christopher Jones and Vice Mayor Sal Romero. Jones is running for re-election, while Romero decided not to seek a second term. Aside from Jones, the other three candidates running in that primary are Monica Robinson, the president of the Harrisonburg-Rockingham NAACP, Paloma Saucedo, a community activist and previous candidate for city council in 2018, and Dany Fleming, chair of the Harrisonburg Redevelopment and Housing Authority. 
That caucus will take place between 10 a.m. and 5 p.m. at the party's headquarters at 850 W. Market Street.

Council's appreciation for Hirschmann
Hirschmann cited health concerns as his reason for resigning from the City Council. He had missed the last two council meetings after having back surgery in March. And the council's special meeting came exactly one week after his resignation. 
Reed, who was first elected in 2016 along with Hirschmann and then re-elected in 2020, spoke fondly of Hirschmann and his service to the city.  
"George and I were sworn in at the same time. This was our second term together," Reed said. "The decision to resign really hurt him. He was very dedicated to this community, and I'm just going to miss him."
Hirschmann has kept a low profile, but thanked the people of Harrisonburg in an official statement sent out the day after he announced his resignation.
"While my heart is heavy at the thought of no longer serving the community I care so much about, I am grateful for the opportunity I have had to make the Friendly City a better place thanks to the trust you placed in me as one of your elected officials," Hirschmann said in a statement release after his sudden resignation. "Harrisonburg truly is a remarkable place full of caring, wonderful people, and it has been my pleasure to serve you all."
---
Journalism is changing, and that's why The Citizen is here. We're independent. We're local. We pay our contributors, and the money you give goes directly to the reporting. No overhead. No printing costs. Just facts, stories and context. We're also a proud member of the Virginia Press Association. Thanks for your support.