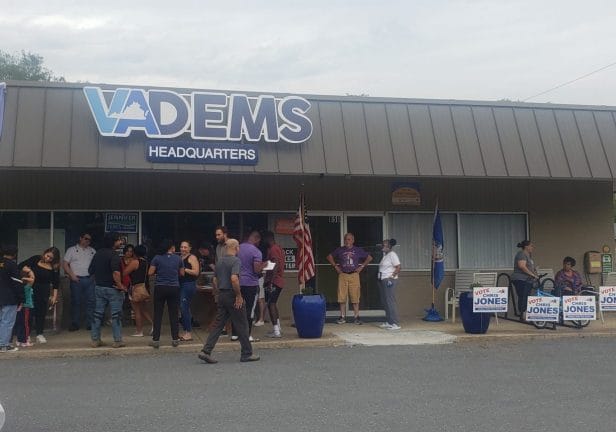 By Chip Lauterbach, contributor
In their second party caucus of the year, city Democrats chose Council Member Chris Jones as their nominee for the special election to replace Council Member George Hirschmann.
After a final vote recount and certification, Jones won with 189 votes. The second candidate, Paloma Saucedo, earned 162 votes. Saucedo immediately endorsed Jones and the other Democrats on the ticket for the November election..
Hirschmann, who resigned for health reasons in May, was replaced until the November election by former Mayor and city council member, Richard Baugh.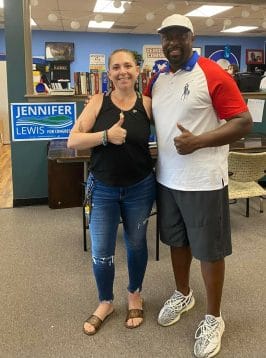 Jones and Saucedo became candidates for the special election nomnation after finishing third and fourth, respectively, in the regular Democratic caucus that occurred on June 4. In that race, Dany Fleming and Moncia Robinson won the nominations, with Robinson defeating incumbent Jones by a single vote.
"Residents, business owners, first responders, our school system, all of those individuals who make Harrisburg a better place, I'm going to meet with those individuals so that we can come up with plans to build a better 'Burg." Jones said. " We can continuously make living in Harrisonburg, working in Harrisonburg and playing in Harrisonburg a fun and equitable thing to do." 
After securing the nomination, Jones will be running to fill the remaining two years of George Hirschmann's term on city council. Jones was first elected to city council in 2014 and served as mayor from 2015 to 2017.
Saucedo, a social worker and a community organizer, ran for city council in 2018 as an Independent with a progressive platform, placing fifth.
"I feel like, when we create democracy, when we build democracy, that we don't really lose," Saucedo said. "This might not be a win for me specifically, but it's a win for democracy, and I'm very happy with Chris, very happy with the party, and we will all continue to do the work."
Robinson and Fleming will face Independents Marshall Orenic and Rick Nagel in the general election this November for the two open council seats. The deadline for other candidates to run against Jones in the special election to fill the remainder of Hirschmann's term is Aug. 19.
Mayor Deanna Reed attended the caucus at the Democratic headquarters on West Market Street to support the party's candidates, saying that no matter the outcome in November, city council will be very busy afterwards.
"We're working on finding a new City Manager and finding ways to better handle the ARPA funding coming up this fall, so those are two immediate issues." Reed said.
Reed also spoke about her optimism for keeping the diverse community representation that the city council has held for several years.
"One thing I'm proud of this City Council for, is that we are a majority minority," Reed said, "so that enables all voices in the community to be heard, and that is something I hope we can continue."
With polls open from 10 a.m. to 5 p.m. party officials saw a steady stream of voters throughout the day and announced results within an hour of polls closing.
For former JMU Student Lawrence Marfo, who made the decision to stay on in the Friendly City after college, getting more involved in local politics was his way of giving back to a community that he felt has given him so much.
"I can see, from over the years, going from being a college student here, to now being an actual citizen of Harrisonburg the impact of all of us working together for democracy." Marfo said.
Marfo's sentiments were echoed by Gia Yoder, President of the JMU College Democrats, who said that student involvement was key to the city becoming more of home for the students.
"It's difficult to do now because it's summer and a lot of people have gone home, but it's very important moving forward making sure that we're being brought into the conversations." Yoder said.
Harrisonburg Democratic Chair Alleyn Harned was proud of turnout and how both the voters and the candidates were able to interact on a much more personal level.
"We had people steadily coming in to give their voices to this process," Harned said. "We had volunteers helping with curbside voting to be of better assistance for those with disabilities, we had Paloma and Chris laughing with voters and everyone had a great time."
---
Journalism is changing, and that's why The Citizen is here. We're independent. We're local. We pay our contributors, and the money you give goes directly to the reporting. No overhead. No printing costs. Just facts, stories and context. We're also a proud member of the Virginia Press Association. Thanks for your support.