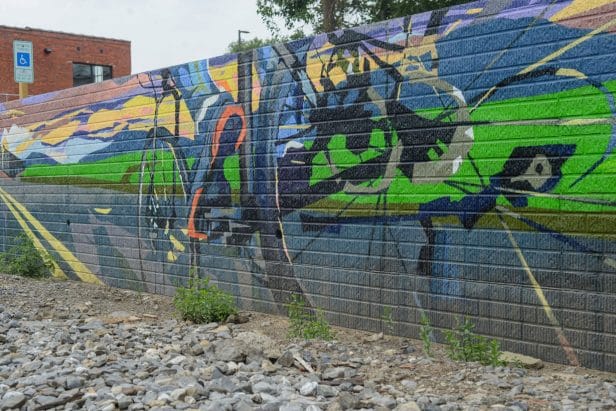 By Daniel Robinson, contributor
Harrisonburg has been gathering input for the last month about ideas regarding a sculpture where Liberty and Main streets connect on the north end of downtown. And the city will continue to collect ideas from members of the public through August, including through an online survey.
The proposed public art project is part of the larger plan to remake Liberty Street to become more bike and pedestrian friendly and to make downtown more accessible.
And, by late July, about 400 people already had submitted answers to the survey, said Michael Parks, the city's director of communications.
Harrisonburg has committed $50,000 from a federal Community Development Block Grant to toward the project. Harrisonburg Downtown Renaissance has also committed $20,000. More funds will come from the Harrisonburg Public Works Department as city workers make infrastructure changes to the area for the sculpture and to manage traffic flow to businesses in that part of town.
The Arts Council of the Valley also will devote staff time and other resources in support of the project.
Jenny Burden, executive director of the Arts Council of the Valley, said her organization is looking forward to tackling this project, which is aimed at being a welcoming gateway to downtown Harrisonburg.
"We have lots of experience working with artists developing public art and with administering the projects," she said. "This is the biggest one ACV has been involved in."
Before this project got started, city staff explored how other cities in Virginia have used Block Grant funds in a similar way. Roanoke was an exemplar of what is possible. Roanoke recently completed a mural project with more than two dozen murals sprucing up the downtown, and that's what organizers said they hope to do with this project as well.
"We know we want something that represents the values of the Friendly City, and for it to be welcoming," Parks said of the project's starting point.
Once the survey closes, a committee made up of representatives from the city, Arts Council of the Valley and Harrisonburg Downtown Renaissance will analyze the comments and develop a set of ideas about what the community would like to see.
The city will then post a nationwide call for artists to apply to take on the project, called a Request for Qualifications. From that group of applicants, the city will invite three finalists to Harrisonburg to meet with city and community leaders and spend time with community members to better understand what they want for the project. Those artists will submit proposals, and one will be selected from there.
Once a proposal has been approved, that will determine a firm timeline and budget for completing the project.
"We hope this will be a roadmap moving forward for working with the city government to bring more public art to the city," Burden said. 
---
Journalism is changing, and that's why The Citizen is here. We're independent. We're local. We pay our contributors, and the money you give goes directly to the reporting. No overhead. No printing costs. Just facts, stories and context. We're also a proud member of the Virginia Press Association. Thanks for your support.