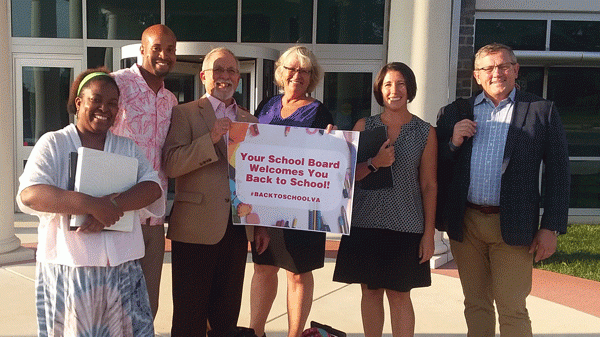 By Haley Thomas, contributor
Nick Swayne, the longtime city school board member who had been the board's chairman, officially resigned, setting off a chain of events to fill his seat until a special election in November 2023.
"I have cherished my time on the board, working with all of the wonderful staff, faculty, and administrators that make HCPS — and Harrisonburg such a great place," Swayne wrote in his letter of resignation from his position as school board chair. "I will miss you all very much, but continue to follow your progress from afar."
Swayne, who wasn't at Tuesday's board meeting, resigned Monday with more than two years left on his term because of his new role as president of North Idaho College.
Vice Chair Deb Fitzgerald will serve as interim chair through the end of 2022. Fitzgerald will revert back to vice chair Jan. 1. 
In the meantime, the board unanimously elected board member Kaylene Seigle to serve as interim vice chair.
Special elections for vacant seats cannot occur within 90 days of a November election, Superintendent Michael Richards explained. Swayne's resignation came Aug. 15 — five days into the 90-day window — requiring the board to appoint a new member to serve until the following general election in November 2023.
Richards said anyone who would like to apply for this position to submit a letter of interest to Lisa Knupp at 1 Court Square, which is the school district's main office. Members of the school board must "be a qualified voter and a bona fide resident of the City of Harrisonburg," according to the city ordinances.
The board will have time to go over each application, then conduct interviews with each candidate. Richards said these are typically held in public, although some school boards go into a closed session for this step.
"I tend to like to have everything out in the open," Richards said.
Interviews could be held at a regularly scheduled meeting, or a separate meeting could be held. The board will also hold a public hearing for members of the public to speak on each of the candidates. There will be a notice for the public hearing as soon as its date is determined.
The board will vote on candidates by Sept. 29, the deadline for appointment.
The board doesn't typically vote during work sessions, other than to approve the consent agenda.
"We're gonna do it now because we have to," Richards said. "We're going to be on a strict timeline to fill this position."

HCPS to receive construction and renovation funds
The city school district will receive more than $2.56 million from the Virginia General Assembly for construction of new facilities and/or renovation of existing facilities.
This comes after the school board rekindled a legislative committee led by Fitzgerald and Swayne, which included lobbying for more construction funds.
"We can't take credit for the bill that passed, but we certainly contributed to the conversation," Richards said. "I want to thank the board for that, in particular Deb and Nick for their work on that."
J.R. Snow, K-12 coordinator of visual and performing arts and director of the Harrisonburg High School's Fine Arts Academy, said some of this funding should be allocated to the high school's fine arts facilities, including renovating the auditorium.
"We have a list of things that would really allow the community to use the space more effectively, and we'd be able to bring more things in," Snow said. "Also using it for our students at both high schools, it being the only auditorium that we have."
Snow said when the U.S. Marine Band comes to town, they call the high school to use its auditorium.
"We want to continue to ensure [the auditorium] is high quality and that it's an effective space that we can have diverse performances — student, community and guest performances," Snow said.
Snow also suggested creating a new dance space and full dressing rooms.
"This proposal is the 'show HHS some love around fine arts' proposal, and it's equity-oriented," Richards said.
While there are not yet quotes on exactly how much these renovations to the high school's fine arts facilities will cost, Richards suggested allocating $1.5 million to the school.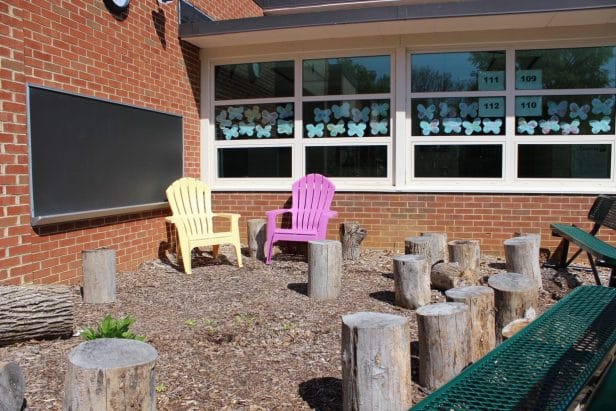 Outdoor learning spaces also could receive funding. Two spaces are underway at Spotswood and Keister Elementary, and Richards suggested about $1 million should be split between Waterman Elementary, Thomas Harrison Middle and Stone Spring Elementary for three more outdoor learning spaces.
And Richards suggested using some of the funding for installing solar panels, specifically at Keister Elementary, which is getting a new roof.
Tracy Shaver, chief of finance, said the stipulations for use of these funds are that they cannot be used for recurring costs, such as salaries, cannot be used to pave parking lots and cannot be used to improve athletic or extracurricular activities. The funds are to be used strictly for construction and renovation of buildings and facilities.

Launching into a new school year
The many new staff members joining HCPS this school year recently underwent a three-day orientation program covering the various programs in HCPS, but more importantly, Dr. Richards said, was the discussion of philosophical questions: "Who are we as a division? Who are the students we serve? What is the community we serve?"
On Wednesday, all HCPS staff will meet in the high school's auditorium for an annual opening meeting. The meeting will include remarks from Fitzgerald, Mayor Deanna Reed, a mental health professional and others.
"We all came into last year thinking 'okay, we're all back together,' and we did celebrate that," Richards said. "We were all moving forward with great energy, and it turned out to be the hardest year of our careers."
---
Journalism is changing, and that's why The Citizen is here. We're independent. We're local. We pay our contributors, and the money you give goes directly to the reporting. No overhead. No printing costs. Just facts, stories and context. We're also a proud member of the Virginia Press Association. Thanks for your support.