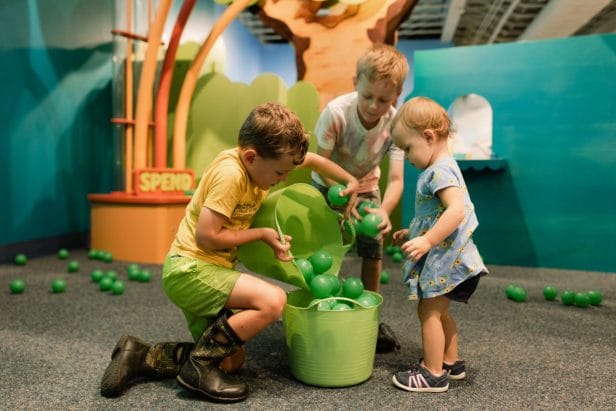 By Eric Gorton, senior contributor
It started as a passing thought after a museum trip with their young children: Wouldn't it be nice to have something like that in Harrisonburg? It returned after subsequent visits to other museums, and eventually became an obsession.
"Finally, my husband and I said somebody should do this and we're somebody, so let's start it," said Lisa Shull, a co-founder of the Explore More Discovery Museum.
So, sometime in 2002, Shull and her husband, Brian, invited a group of friends and acquaintances to a meeting to gauge reaction and start planning and "we just took it from there," she said.
"I wrote a mission statement while I was sitting outside my daughter's piano lesson," Lisa Shull said last week during an interview conducted in a third-floor conference room of the museum's current home at 150 S. Main St.
Before the pandemic, the museum was attracting 80,000 visitors a year and its attendance is rising toward that again.
"I am so proud to have been on the ground floor of helping to establish Explore More," Brian Shull said in an email. "It serves so many roles in our community. It is an educational resource for children and their families, it's an active partner with schools and agencies serving the needs of area children and it has been a catalyst for downtown revitalization over the past 20 years."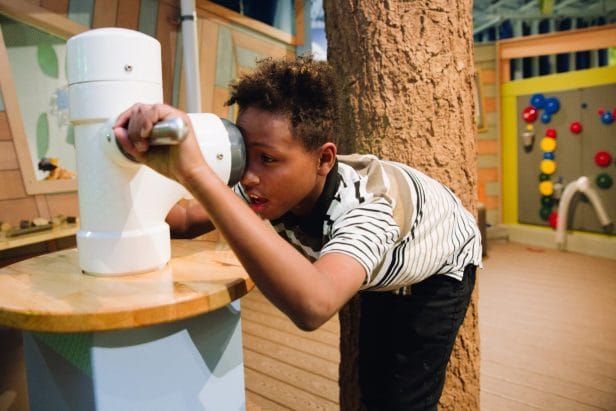 The museum started slowly before gaining solid footing and turning into a major attraction.
A kindergarten teacher at the time she and Brian decided to take the plunge, Lisa Shull had no museum experience but, "all these ideas popped in my head. I don't even know where they came from, I don't know that they'd ever come back again."
The predecessor to the museum opened in the summer of 2002 as a series of exhibits created by volunteers and set up in different parts of the city.
"We called it, "Where in the World is the Harrisonburg Children's Museum?" Lisa Shull said. "And the DN-R (Daily News-Record) was really helpful to us because at that time, there was no social media."
The "mobile" museum consisted of eight exhibits, one per week that summer, and the newspaper published clues so people could find them.
"We needed to show people what we were trying to start," Lisa Shull said. "We had a really wonderful launch with that. We got some great volunteers."
After that first summer, people began asking, "What are you going to do now?" Lisa Shull said.
The answer was renting a building in need of some work at 30 N. Main Street. During summer 2003, in its newly rented space that had been a McCrory's department store and then a fabric store, the museum hosted, "Metamorphosis: Explore the World of Change," a seven-week summer program that served over 7,000 participants, according to a history that Lisa Shull posted on the museum website.
"I wasn't a formal employee," she said. "We just all took turns being the manager on duty. People would take a day off from work and they would be the manager of the day and all the volunteers would be there and people would come in and explore the museum all summer."
The museum paid rent from a combination of community contributions, entrance fees ($3 at the time) and memberships. A few months after opening, the museum also started earning money from hosting birthday parties, field trips and enrichment classes. "It was a similar model to how we currently operate but on a much smaller scale," Lisa Shull said.
Lacking nonprofit status at that point, the Arts Council of the Valley stepped in and became the museum's fiscal agent, an example of the kind of support the museum has received throughout its history.
"I think that's been the greatest gift, the community has really come on," Lisa Shull said. "It's so big, one person can't do this, two people can't do this. Every time I had a gap in knowledge, I didn't know what I was doing or I needed to figure out how to get from A to B, there would be somebody that would come along and help. If you asked, they were very willing."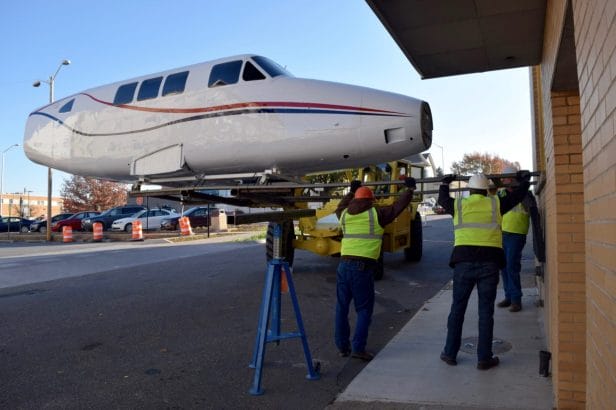 Some volunteers, such as Dean Kiser, the museum's consultant for janitorial services, just showed up _ and at just the right moment. Lisa Shull said she, her husband and volunteers were "on about our last leg" after painting and doing other work to get the original building open the next day. The last big chore was cleaning the bathrooms.
"The restrooms in that building had never been touched," she said. "I knew we had to go back there and figure all that out." And in walked Kiser who said he had heard about a project to benefit kids while in a nearby store and he wanted to help.
"He said he was a professional cleaner," Lisa Shull said. "Comes in with this bucket of stuff, went back in the bathrooms. It was like a Godsend and he scrubbed those things until they sparkled, five hours later."
The museum considers its official start to be October 14, 2003, when it opened as a permanent museum at 30 N. Main Street with Lisa Shull as the founding executive director. She hired two part-time staff members and received help from hundreds of volunteers, she said.
"The extent of our museum know-how was that some of these volunteers would just go in and say, 'We're going to have a construction thing, we're going to do something with art, we're going to do something with science," Lisa Shull said.
The museum continued to grow and evolve at 30 N. Main St., with its annual attendance peaking at 38,000 visitors. In November 2010, bolstered by a gift from the City of Harrisonburg, the museum moved to its current home at 150 S. Main St., the former Leggett/A&N building. The museum also changed its name to "Explore More Discovery Museum, better reflecting the expanded region and offering opportunities to reach a wider age range," according to the history on the website.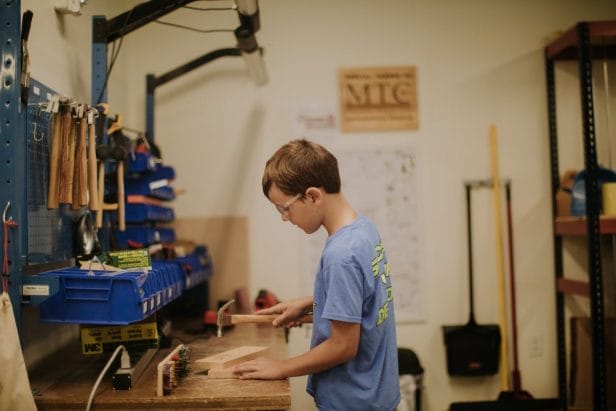 The museum operated on just the first floor of the three-story building at first, until it could raise funds to develop the upper floors. Since moving to its current home, the museum has raised about $5 million.
"It takes lots of money for professional exhibits," Lisa Shull said, "and that doesn't count operations to run from year to year."
"I think I always had a big vision, I imagined in my mind what it might be like, but I didn't know how long it would take or all the steps or all the people," she said.
Brian Shull said, "Recognizing the passion that Lisa, the board and volunteers had for creating this museum, I always believed the dream would indeed become reality."
The museum now has 13 employees and Lisa Shull estimates 350 volunteers a year who provide 10,000 hours. Along the way, it has been recognized in Virginia Living magazine as one of its "Best in Virginia" locations, as "Best Museum in Virginia" and "Best Family Entertainment," Lisa Shull said.
Among the current employees is Charlotte Hanson, who grew up in the museum since her mother, current program manager Melanie Veith, has been involved with it since its beginning.
"People would remember how long it has been open by asking how old I was," she said in an email.
A recent graduate of Williams College in Massachusetts with an interest in museum education, Hanson said she spent hours in the art area in the first building. "I remember feeling like I could make anything when I was there and looking at the bins of materials. I was also a huge fan of the face paint, although as a current employee I can say that taking the face paint out of the theater area has been such a great move. Things are a lot cleaner in there now."
Hanson said she didn't think she would want to work at Explore More but decided it would provide a good summer job during her first year of college. During the pandemic, the museum needed help and Hanson was available.
"Now, I am taking a couple of gap years before graduate school, and I can't imagine working anywhere else," she said.
The museum held its first 20th year celebration event on Saturday, Jan. 14 with a visit from the Virginia Wildlife Center. It's "Celebration Saturdays" events will continue on the second Saturday of each month from 10 a.m.-noon, with the next one scheduled for February 11.
"We'd like to keep it in front of people and so we decided once a month, that would give us an opportunity to do some extra things to celebrate," Lisa Shull said.
A final celebration will occur on Saturday, Oct. 14, 2023, the 20th anniversary of the official opening. "We'll end with the big birthday bash, which we imagine will be a community-wide family-friendly event that we'll invite everybody to. It will be free. I don't know what the details are yet, but hopefully there's a cake," Lisa Shull said.
---
Journalism is changing, and that's why The Citizen is here. We're independent. We're local. We pay our contributors, and the money you give goes directly to the reporting. No overhead. No printing costs. Just facts, stories and context. We're also a proud member of the Virginia Press Association. Thanks for your support.