By Eric Gorton, senior contributor
Frankie Leech said her dad and his co-worker did a pretty good job painting a mural on the outside of Explore More Discovery Museum, but that's not all.
"They're getting a lot of paint on themselves," the energetic 8-year-old pointed out.
Frankie, who has been visiting the museum at 150 S. Main Street since before she could walk, added some creative inspiration to the work that is part of the museum's 20th anniversary celebration.
"I told my dad that I thought the outside was just so boring when the inside was so fun," she said during an interview at the museum.
Among the items depicted in the mural, which faces Newman Avenue, is a large banana that Frankie proudly noted is based on her drawing.
Matt Leech said just about everything in the mural is either inside the museum or inspired by something inside. The banana is inspired by the museum's farmer's market exhibit, a couple of gears are inspired by the maker space and it also depicts the museum's treehouse and slide.
"There's all kinds of references on the outside to things on the inside and we kind of abstracted them a little bit on purpose," Leech said. "We want it to work for people who haven't been inside, but we also want to make that connection for people who have been inside."
Leech, from Harrisonburg, and his painting partner, Tim Skirven, from Richmond, even incorporated some pipes, doors and other features of the wall into their creation.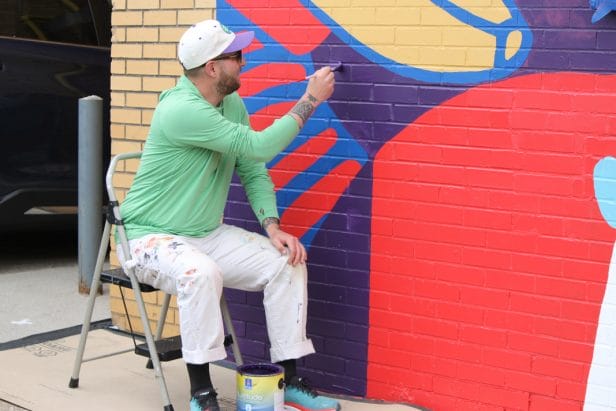 "One of my favorite things about public art is that you can change a city block, you can also preserve it in a sense and highlight some of the stuff that's there, so like the doors, we've made into robots. We've used what's there as part of the design," said Leech, who met Skirven in college. Following college, the pair started Earth Surprise Murals. When not working on projects for Earth Surprise, each works independently as illustrators and designers.
Leech was initially hired to spruce up the museum's secondary door, which opens to Newman Avenue, with a small vinyl graphic. After starting that project about 18 months ago, he proposed the larger mural.
"Everyone in the community has been really receptive to our idea," Leech said, noting that an ensuing fundraising campaign went smoothly. "That speaks to the museum in general and how important it is to the community, but also the thirst for public art here in this town."
Lisa Shull, co-founder and executive director of the museum, said, "Once we saw Matt's vision, we were hooked. With feedback from the museum board, community members and the kids, we knew we needed to make this happen."
A lead gift from local community member Don Albright set the project in motion, Shull said, and other supporters also stepped up.
Not everything went as planned.
"We had to pivot a little on the design," Skirven said. "Certain things were a little further apart than they needed to be once we actually got things up on the wall."
Added Leech, "There's always hiccups along the way. The first night we were tracing the mural, someone moved our projector."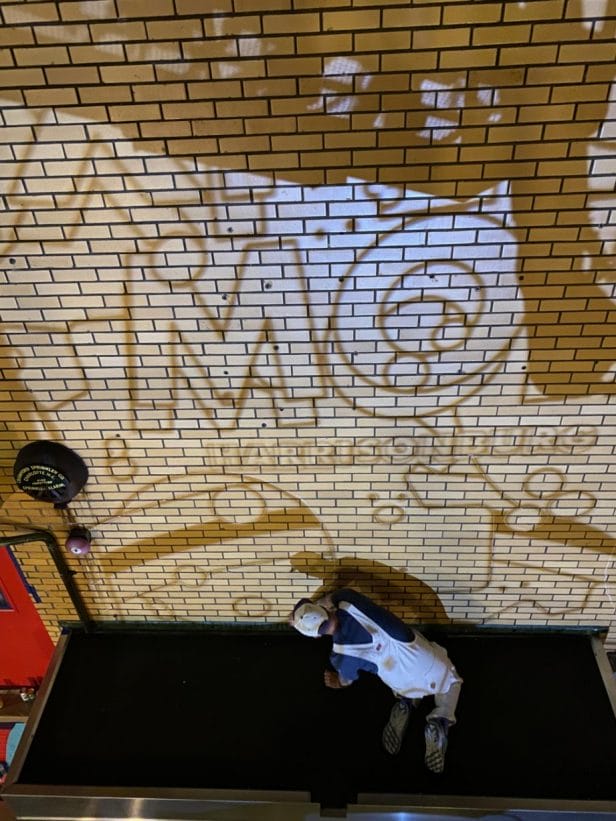 The duo also had to work around numerous interruptions from curious passers-by, including an enjoyable reunion with a printmaking professor they had not seen in years.
"What I think has been so incredible, and I didn't expect it, is how many people were just stopping, taking pictures, talking with the artists," Shull said.
Skirven said it was particularly fun on Friday when people returned to see the progress from earlier in the week. "It's really exciting to hear people starting to get it," he said.
"That's what makes this special to me, already experiencing the community interacting with it," Leech said. "It's already helping make connections, not just with the museum, but with people and I think that's important, that's what it's all about for us."
Leech and Skirven started the mural on Saturday, May 13 and finished Sunday. They worked 12 to 14 hours on a few days to get it done in a week.
An official opening for the mural will take place 5-7 p.m. Friday, June 2 during one of the city's First Fridays events. The museum will be open for free and will hold a mural-inspired art project for kids. Visitors will also have an opportunity to meet Leech and Skirven.
---
Thanks for reading  The Citizen, which won the Virginia Press Association's 2022 News Sweepstakes award as the top online news site in Virginia. We're independent. We're local. We pay our contributors, and the money you give goes directly to the reporting. No overhead. No printing costs. Just facts, stories and context. Thanks for your support.