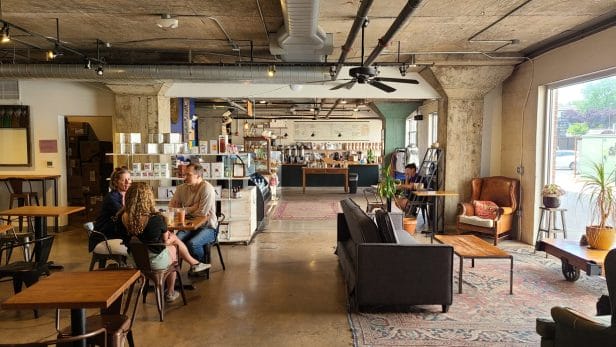 By Eric Gorton, senior contributor
The Ice House was a good first home for Black Sheep Coffee, but owner Chance Ebersold said the time is right to move his cozy downtown shop a few blocks north to 80 E. Market Street.
"Our visibility from the street will be much better. Where we are right now, unless you know we're here, you don't know we're here," said Ebersold, who opened Black Sheep in March 2015 at 217 S. Liberty Street.
At that location, Black Sheep sits adjacent to another Ice House building and is mainly visible to pedestrians walking around the buildings.
At 80 E. Market Street, Black Sheep will face a busy section of one of the city's main east-west thoroughfares and be bordered by Federal Street, which the city has started converting into a more friendly route for pedestrians and bicyclists in accordance with its 2040 master plan.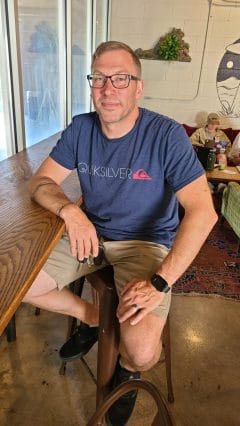 "We'll probably get a lot more people who just stumble across us," Ebersold said. "With the planned Federal Street walking paths, I think that will help a lot."
Being able to purchase the building was another factor in his decision to move, Ebersold said. He has been renting the Ice House space from Matchbox Realty and when the COVID-19 pandemic hit, he suddenly found himself paying rent without having an income.
"That was a big eye opener," he said. "I had zero income and if I owned the building, it would be easier. For longevity, owning the building should help."
Black Sheep's last day at the Ice House will be July 15. If things work out, it will open in the new location the next day. The re-opening date has been a moving target due to some needed electrical work that requires a part that will be shipped from overseas. The part's shipping date has been pushed back a couple times. Originally, it was scheduled to ship in November; now it's scheduled to ship on Saturday, June 10.
The last occupant of 80 E. Market St. was Quick Source Learning, a business that creates step-by-step instruction manuals for popular software titles. That business recently relocated to 2 S. Main St. on Court Square.
Since it was not a restaurant, much work has gone into preparing Black Sheep's new home. Ebersold said the building was divided into cubicles with lots of telecom wiring.
When Black Sheep moves in, the layout will be different from its Ice House location, but Ebersold wants to retain the atmosphere.
"We've always been happy with the way this has felt," he said while sitting next to a window with a view of a breezeway that runs between the coffee shop and Hugo Kohl's jewelry shop. "We're hoping to have a similar feel, a different aesthetic."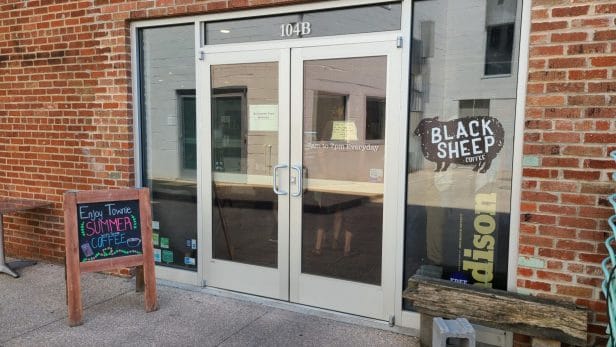 Ebersold said he and his wife, Miranda, named the shop Black Sheep to reflect its difference from other coffee shops. At its new location, it will occupy about 2,000 square feet, about what he has now and about twice what he had when he opened in 2015.
At that time, half of his current space was occupied by Miranda's women's clothing store, The Yellow Button, which she had moved there temporarily from South Main Street. When Miranda was able to move The Yellow Button back to South Main Street in 2017, Ebersold removed a wall that separated the two stores to provide more space for Black Sheep.
One thing Ebersold will have more of in his new location is kitchen space.
"Since we are upgrading our kitchen, we will probably change up the menu a little bit and offer a little more food, especially on weekends," he said.
The current food menu consists of some baked goods, a quiche and a few sandwiches and wraps.
Like his current location, Ebersold's new location does not have parking outside the front door, but it's not far away. The shop will be within a block of the Elizabeth Street Parking Deck and other parking is nearby.
He plans to keep the same hours, from 7 a.m. to 7 p.m., seven days a week.
Nick Fornadel, the commercial portfolio manager for Matchbox, said in an email that Black Sheep "created something special for our community. We wish the Black Sheep team the best in their new endeavors. Our team is currently discussing leasing opportunities with prospective tenants."
The space could house another restaurant, but has potential for other businesses, Fornadel said. Its location between James Madison University and the heart of downtown make it an attractive location.
"With the efforts of organizations like HDR (Harrisonburg Downtown Renaissance), Downtown Harrisonburg has become a highly sought-after destination for business cultivation and creativity," he said.
---
Thanks for reading  The Citizen, which won the Virginia Press Association's 2022 News Sweepstakes award as the top online news site in Virginia. We're independent. We're local. We pay our contributors, and the money you give goes directly to the reporting. No overhead. No printing costs. Just facts, stories and context. We value your support.