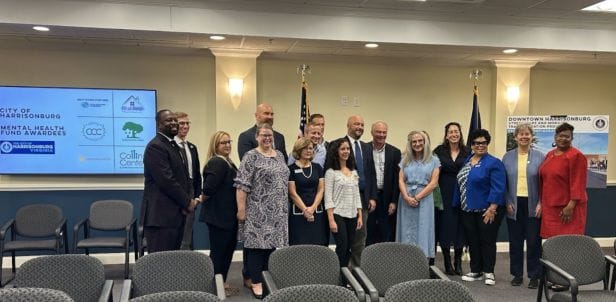 By Sukainah Abid-Kons, contributor
Harrisonburg has been spreading out $400,000 in grants from the federal American Rescue Plan (ARPA) funds to improve mental health services in the city, and the funding comes precisely when many community organizations are in need of it.
The city awarded those grants to six different community organizations: Boys and Girls Club of Harrisonburg and Rockingham ($123,574), Gemeinschaft Home ($69,813), Community Counseling Center ($20,000), First Step: A Response to Domestic Violence ($34,167), the Collins Center ($40,569), and Strength in Peers ($111,877). 
While not all of these organizations are solely focused on mental health, the grant funds will be used to create or continue mental health-related services.
Each organization highlighted how they plan to use their grant for city council members and Virginia Democratic U.S. Sen. Tim Kaine during a community round table on Aug. 10. Mayor Deanna Reed opened the round table event by expressing her appreciation for each organization. 
"Thank you for what you have done, the work that you do for our community, our families, our students," Reed said. 
For the organizations, the grant money injects much-needed funds to keep up with demand. 
The Boy's and Girl's Club, which received the greatest sum out of the $400,000 total, plans to use the money to fund a mental health advocate position. The mental health advocate can work with students through programming and group activities, as well as individually. Additionally, that person can work with families and offer referrals for students who are exhibiting signs of mental health struggles. 
Sandra Quigg, the organization's executive director, and Matt von Schuch, president of the board, told government officials how crucial the mental health advocate has become.
Quigg said Boys and Girls Club has seen how mental health issues among students of all ages have increased since the onset of the COVID-19 pandemic. Quigg said the increase in mental health and behavioral problems has been tough on both teachers and parents. 
Quigg and von Schuch both said they hope the new mental health advocate will provide an avenue for students who are struggling to access the mental health care they need.
Indeed, since 2020, researchers have found lasting impacts of the pandemic on people's mental health. In March 2022, the World Health Organization released a scientific brief that showed a 25% increase in rates of depression and anxiety globally. While the United States was still in a public health emergency, organizations that provided services related to mental health had more opportunities for funding. Now that the public health emergency has ended, some organizations have lost funding while still simultaneously dealing with an increased demand for services.
Each of the local organizations selected to receive grants provides services for reduced fees or free of charge. And because some additional federal aid ended with the national public health emergency in May, these funds, which the city is distributing from its share of ARPA funds, are coming right when they are needed.
First Step Executive Director Candy Phillips said the organization will use the grant to continue keeping a bilingual counselor on staff. 
Phillips said the role began in 2019 and has been more frequently used since, especially since the pandemic began. This role, she said, is crucial because it allows First Step to help more survivors of domestic violence, some of whom may have otherwise been held back by language barriers.
All of First Step's services are free, which Phillips said is an integral part of the organization's mission. Through the grant, First Step can continue to provide more accessible counseling to its clients free of charge, she said. 
The Collins Center holds similar goals as First Step, including providing services for free. Executive Director Maria Simonetti said she intends to use the grant to increase the base salaries of their trauma-informed therapists. 
Trauma-informed therapists often complete additional training beyond the basic requirements to be a therapist and work with trauma survivors to address specific needs.
Simonetti said because the Collins Center is a nonprofit organization and is often funded through grants, the base salaries they offer are typically lower than positions at private practices.
"By increasing salaries for clinical staff, we not only get to prioritize the health of our community and clients by keeping people on board for longer, but we also don't have to ask our counselors to compromise their personal financial stability and well-being," Simonetti said. 
She said as a sexual violence resource center, having trauma-informed therapists is crucial because many of the center's clients have survived traumatic experiences. 
Brian Martin, executive director and a clinician at Community Counseling Center, said that the organization offers sliding-scale appointment rates to their clients, meaning that mental health services are more affordable for those who are uninsured or have high deductible payments. 
While therapy sessions typically cost more than $100 in 2023, the counseling center can offer appointments for as little as $25. But Martin said seeing clients for such low rates isn't "sustainable" for counselors, so the grant funds will help subsidize the salaries of the center's staff.
Kaine, meanwhile, told organization leaders that he's working on legislation aimed at making mental health more accessible. He said he believes there might be a "really big mental health bill" with bipartisan support coming soon. 
---
Thanks for reading The Citizen, which won the Virginia Press Association's 2022 News Sweepstakes award as the top online news site in Virginia. We're independent. We're local. We pay our contributors, and the money you give goes directly to the reporting. No overhead. No printing costs. Just facts, stories and context. Thanks for your support.