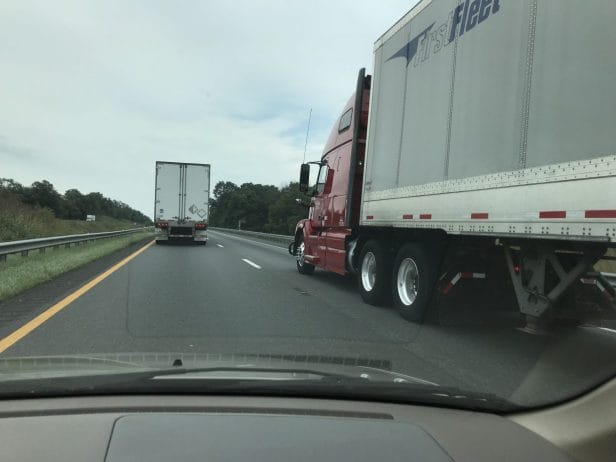 By Rachel Petterson, contributor
With a major expansion of I-81 through Harrisonburg about to begin, people and businesses located closest to the interstate will have a chance to weigh in on whether they want a sound barrier built to dampen highway noise.
The Virginia Department of Transportation is laying the groundwork for widening a 5.8 mile stretch of I-81 to three lanes in each direction from two lanes. That stretch is between mile markers 242 and 248.8, with completion projected for December 2029. The widening will take place on the inner portion of I-81, which will narrow the median. Crews will also make other improvements, such as replacing nine bridges, replacing guardrails, and installing sound walls along this stretch.
The Transportation Department will send a ballot in October to both the owners and tenants of buildings most affected by the highway. The ballots ask whether they want a barrier constructed on the portion of I-81 closest to them. Recipients will have 21 days to respond. A second round of balloting will kick off if less than 50% of relevant parties respond the first time. At least 50% of participants must vote "yes" for VDOT to build the barrier on that stretch of I-81.
Also related to transportation: the Harrisonburg Rockingham Metropolitan Planning Organization approved a new long-range transportation plan in May. It includes two new projects within Harrisonburg:
Sidewalks on Mt. Clinton Pike from Acorn Drive to N. Main Street, a roundabout at Acorn Drive and a crosswalk at the railroad crossing near Virginia Avenue.
Sidewalks on Old Furnace Road to fill in gaps in pedestrian infrastructure between Summit Street and Oriole Lane. 

Two more apartment complexes approved
The council approved rezoning to allow for two new multi-family dwellings in the city at Tuesday's meeting, both aimed at non-student affordable housing.
The larger of the two is a 164-unit apartment complex off of Mosby Road with units of between one and three bedrooms. At least 41 of the apartments (25%) will be one-bedroom units, and at least 82 will be aimed at residents 55 and older. The building is not designed for student housing, so apartments won't be leased at a per-bedroom rate. Instead, the development is intended to be affordable housing with the average resident making 60% of the median income in the area.
This project is in partnership with the Searles Foundation, which is a not-for-profit organization aimed at providing affordable housing for the elderly and people with disabilities.
Mark Slack of Kanawha Realty Advisors, the project's developer, told the council he will pursue Virginia Housing and Development tax credits to fund this project.
He told The Citizen that he will know whether that funding will come through by the spring, at which point the project can move forward. Otherwise, the project may be on pause while developers pursue other funding.
The second is a 16-unit multi-family dwelling next to Commerce Village, named "Commerce Village II," which would be off of Elon Rhodes Lane. This project is through the Harrisonburg Redevelopment and Housing Authority and would include only one-bedroom units geared toward housing those who are experiencing homelessness, particularly veterans and those with disabilities.
The council unanimously approved both developments.
"It takes all different types of housing to get out of our housing crunch," said Mayor Deanna Reed. 

City to help with renewable energy for businesses
Harrisonburg will now provide support to a program aimed at helping businesses in the city adopt renewable energy.
The council unanimously approved supporting the Commercial Property Assessed Clean Energy (C-PACE) program by providing about 20 city working hours to the programper year. These hours would be spent promoting the program, such as through an open house and providing administrative support– the city manager and finance director will co-sign on new agreements using the program.
C-PACE is set up by the U.S. Department of Energy to provide an avenue for private businesses to connect with private lenders who will finance energy efficiency-related improvements to a property. This program has existed in Virginia since 2009 and expanded in 2022. In Virginia, it is only available for commercial properties, although that does include large multi-family houses.
The program provides private money for private businesses — and no public money will be used aside from devoting some city staff time to help. The program seeks to be a way for businesses to make buildings more environmentally sustainable and cost effective. The loan stays with the property, even if it changes owners, to better ensure that it is paid back.
Holly Edinger, the C-PACE application processor for Virginia, said "any lender can be a C-PACE lender," giving banks as an example of an organization that might give out loans.
In a presentation at Tuesday's meeting, Brian Schull, the director of economic development, said the money from C-PACE loans could finance projects such as "installing solar panels, improving insulation, upgrading to energy-efficient windows and lighting, or automating building mechanical controls."
Vice Mayor Laura Dent was especially enthusiastic about the program. She said when the city's Environmental Performance Standards Advisory Committee (EPSAC) recently outlined energy efficiency goals for the community, she thought the business sector was missing. And because many commercial buildings have large, flat roofs, they would be conducive to solar panels.
"This perfectly fits that missing piece so that we can increase the community participation at no cost to the city at viable financing operation for the business owners and for the benefit of all," she said.
She did question whether, in the case of multi-family housing, the energy cost savings would transfer to the tenants or only save the property owner money. But she said that those questions could be answered as the cases arose.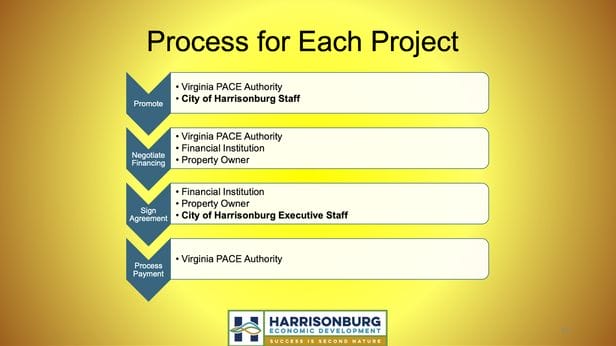 Other news from Tuesday's meeting:
Second Home is offering aid to pay for before-and after-school care for families living in the Spotswood Elementary School bounds. That care would start at 6 a.m. before school and end at 6 p.m. — after school. It would include free breakfast and afternoon snacks. Council member Monica Robinson said at Tuesday's meeting that about 30 spots remain. Those interested can contact Leeanne Shepard, Second Home's assistant director, through contact information on the group's website.
Shenandoah Valley Pride will take place from 1-5 p.m. Saturday at Court Square.
Construction workers for the new Homeless Services Center will break ground on Thursday, Reed told the council.
The Discovery Museum will hold a free "Birthday Bash" from 10 a.m.-2 p.m. Oct.14 to celebrate its 20th anniversary. According to an email to The Citizen from Lisa Shull, the museum's executive director, there will be "special entertainment, hands-on activities, refreshments and plenty of PLAY opportunities."
---
Thanks for reading The Citizen, which won the Virginia Press Association's 2022 News Sweepstakes award as the top online news site in Virginia. We're independent. We're local. We pay our contributors, and the money you give goes directly to the reporting. No overhead. No printing costs. Just facts, stories and context. Thanks for your support.