By Bridget Manley, publisher
School Board Chair Deb Fitzgerald has told The Citizen that she will not seek another term on the school board in 2024, ending over a decade of service to the Harrisonburg community.
And Tom Domonoske, who was appointed to fill the school board seat vacated by Nick Swayne and is currently running unopposed to finish the remainder of that term, also told The Citizen that he will not seek reelection once his term is over in 2024.
Those decisions mean that at least two seats on the board will be open in the November 2024 election. Board Member Kaylene Seigle will also be up for reelection next year. Seigle declined to say whether she would run for another term, telling The Citizen that she is focused on her current term and the needs of students and teachers in the system.
Fitzgerald's and Domonoske's announcements that they will not seek reelection next year come unusually early, as it is more common for candidates to decide closer to filing deadlines whether they want to run again.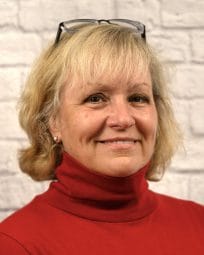 For Fitzgerald, the decision is a strategic one – she wants potential candidates to have plenty of time to decide to run and mount their campaigns.
"It is better for folks out there to know that at least this seat is going to be empty," she said.
Fitzgerald's decision
Fitzgerald has served on the Harrisonburg School Board since 2016. She also served on Harrisonburg's Planning Commission from 2010 through 2018. She is the only person to serve as chair of both the planning commission and school board during her terms.
Fitzgerald said that part of her decision to not seek reelection is personal, as she wants to take time with her husband Joe (a former mayor of Harrisonburg) to see and learn new things while they both have good health and the opportunity. Fitzgerald also plans to help Blue Ridge Community College – where she teaches economics – transition into utilizing AI as that technology evolves.
"It's the right decision," she said. "Every time I say it out loud, it feels like it's a better fit."
Fitzgerald has served through "tumultuous times" on the school board, including a global pandemic and the controversies surrounding masking and online schooling, heated school board meetings and a lawsuit brough by teachers and parents regarding their interpretation of district's policies regarding transgender students.
Since telling colleagues about her decision, accolades of Fitzgerald have poured in.
HCPS Superintendent Michael Richards told The Citizen that part of the board's effectiveness is owed to Fitzgerald.
"Deb has served the students, families and staff of HCPS with passion, humility, and wisdom and has encouraged others to do the same," Richards said. "She approaches challenges from a posture of learning-before-acting, holds a deep respect for educators, and reflects with empathy and compassion on all decisions related to our students and families. The positive impact of her leadership will be felt for years to come."
For board member Andy Kohen, he says he has "mixed emotions" about Fitzgerald not seeking another term, saying that he will miss her leadership and expressing his gratitude for her friendship as they served as each other's chairs and vice-chairs over the last six years together.
"On the other hand, I am happy for and applaud her decision to transition and devote her skills to serving other worthy causes along with her personal passions," Kohen continued.
Board member Emma Phillips told The Citizen that Fitzgerald has contributed to making Harrisonburg a great place to live.
"Deb is one of those people who takes great joy in service. You can actually see her eyes light up as she rolls up her sleeves in preparation to dive into work. She has poured countless hours into our schools and our community," Phillips said. "I'm going to miss her wry sense of humor and the seemingly bottomless wealth of information she carries in her head. Serving our community alongside Deb has been an absolute privilege and delight."
Domonoske said that it was a loss that she had decided not to run, thanking her for her work on the board, while Seigle told The Citizen, "I appreciate her and I thank her for her service."
Board member Kristen Loflin said that she appreciated Fitzgerald's willingness to dedicate her time, energy and expertise to help on a wide range of committees for the board.
"Deb has always taken time to help orient new board members, often taking nighttime or early morning phone calls to answer questions and explain relevant background," Loflin said. "Few people are willing to give so much of their free time to an organization, and I am thankful for the ways in which Deb has shared herself with the students and staff of HCPS as well as the community of Harrisonburg."
Fitzgerald says she is most proud of the construction of Rocktown High School, due to open in the fall of 2024, the hiring of Dr. Richards as superintendent, and how the board handled the turmoil of transitioning to online learning throughout the global pandemic.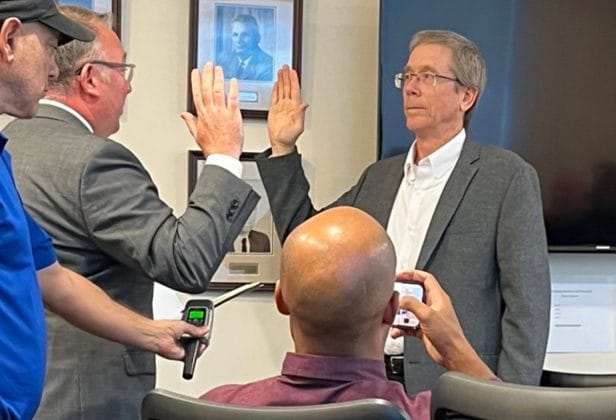 Domonoske pledges to fill remaining term but will not run in 2024
This is the second time Domonoske has been tapped to fill a vacant seat on the city school board, having previously been appointed to fill an empty position in 2015.
Domonoske is currently running unopposed to complete the final year of a four-year term vacated by Swayne. He said that during the appointment process last year, he committed to running in the special election this year if no qualified candidate came forward.
"I failed at my goal of getting someone else to run, particularly getting someone to run who could represent other portions of our diverse community," Domonoske said.
He said that he would like to spend the remainder of his time on the board working with city council on "more effective communication" regarding projected student growth to address overcrowding issues well before they become out of control.
Domonske would like to see a written memorandum of understanding between city council and the school board about how future enrollment is projected that would help with planning processes for school construction.
Domonoske and Fitzgerald call on community members to consider running
Domonoske and Fitzgerald both say that their hope is that Harrisonburg residents will start considering now a run for the board.
Domonoske said that he would like to see a diverse slate of candidates running for every elected position, which he believes is good for a healthy democracy.
"There needs to be choices on the ballot, which is different than what is going on right now," Domonoske said. "For this special election, I am the only one on the ballot. Marsha Garst is the only Commonwealth's Attorney [on the ballot]. Our sheriff is the only sheriff running. That's not really an election that gives people a choice."
Fitzgerald has pledged to help potential candidates with managing the logistics of the paperwork and the organization of the campaign. She has also offered to be the treasurer of a potential candidate for her seat, and potentially offer an endorsement.
Domonoske said that he understands that it may feel like an enormous undertaking to run for school board, but the barrier to entry is much lower than people anticipate. He understands the time commitment that running for office and serving on the board takes, but he says change requires that "people do something different."
In order to run for the board, candidates must file four forms and collect 125 signatures from Harrisonburg residents.
Fitzgerald believes that good candidates should believe that public education is a public good that benefits the entire community. Having children in the school system is also a benefit for potential school board members and understanding the unique diversity of the students in the HPCS system in important.
"We are really trying to make diversity be a strength here, and that is nowhere seen as much, I think, as in our schools," Fitzgerald said.
---
Thanks for reading The Citizen, which won the Virginia Press Association's 2022 News Sweepstakes award as the top online news site in Virginia. We're independent. We're local. We pay our contributors, and the money you give goes directly to the reporting. No overhead. No printing costs. Just facts, stories and context. We value your support.