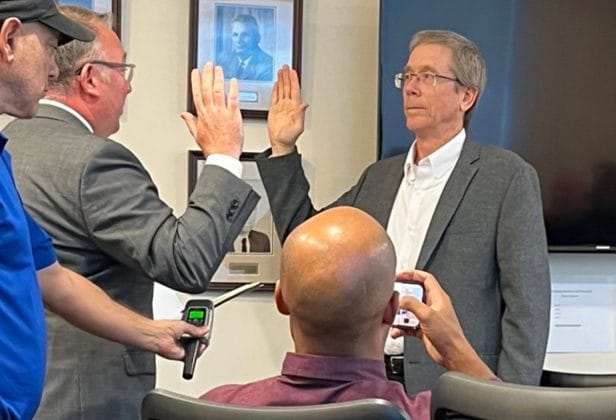 By Haley Thomas, contributor
The Harrisonburg City School Board on Tuesday appointed Thomas Domonoske to fill the open school board position until a special election is held in November 2023.
Domonoske, an attorney who twice before served on the school board, replaces Nick Swayne, whose resignation last month to become a college president in Idaho came too late for a special election this fall. The appointment was the only item on the agenda at a special meeting held early Tuesday evening at the school board office.
Deb Fitzgerald, the acting board chair, joined board members Kristen Loflin and Andy Kohen, to support Domonoske's appointment. Kaylee Seigle, acting vice chair, voted no. Obie Hill recused himself from the vote because he has a financial connection with Domonoske.
"I'm honored," Domonoske said — his first words after the vote. "I look forward to working with all of you. There's certainly a lot of work to do."
Domonoske has been a resident of Harrisonburg since August 2000. He has two years of experience on the board, serving as both an interim appointed position and following a special election in 2015. He works as a consumer lawyer, has teaching experience and presents several educational seminars for other lawyers every year.
The board selected Domonoske over two other candidates: Diane Foucar-Szocki, another former board member and a professor at JMU's College of Education, and Corin Jackson, a local business owner and a candidate for the school board in this November's election.
Fitzgerald thanked both of them for being willing to serve.
"[Each of the candidates] could've served, I think," Fitzgerald said. "But this is a person who fills a hole in our experience for what we're facing right now."
The board interviewed all three candidates at its Sept. 6 meeting and gathered input from the public at last week's board work session.
Each board member who voted to appoint Domonoske cited his legal experience as a key factor for why he deserved the position. The board faces a lawsuit brought by six parents and teachers regarding the district's policy for transgender students. The first hearing is Nov. 1.
"To have someone who understands the legal complications of that and has the ability to explain it really clearly will be very helpful to us at this time," Fitzgerald told The Citizen.
Board members also said they appreciated Domonoske's past experience on the board.
"[Domonoske] has been on the board quite recently, so his experience is fresh," Fitzgerald said. "With him, we'll be able to just hit the ground running."
Domonoske told The Citizen that his recent trip to his hometown in California and discussions with his colleagues in education inspired him to apply to fill the vacant seat.
"I don't come in with an agenda," Domonoske said, "other than to not only listen to people, but listen to them in a way that they actually experience that they were listened to."
"My first step is to deal with my calendar," Domonoske said. "That involves clearing things that have been on my calendar. There's going to be a lot of structural things like that, but I'm excited to be back on the board and I'm actually really excited for what I'll learn."
Fitzgerald said — and other members agreed — that it's a relief for the board to be "back up to full strength."
Clerk of Court Chaz Haywood swore Domonoske in on the spot.
"We're putting you to work now," Fitzgerald said with a smile.
---
Journalism is changing, and that's why The Citizen is here. We're independent. We're local. We pay our contributors, and the money you give goes directly to the reporting. No overhead. No printing costs. Just facts, stories and context. We're also a proud member of the Virginia Press Association. Thanks for your support.