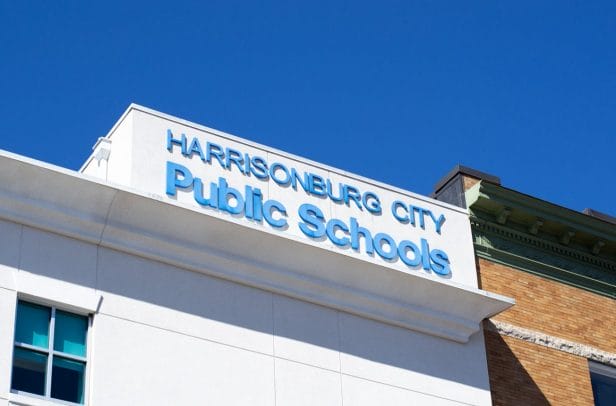 By Haley Thomas, contributor
A debate over the school board's professional development and travel policy and a parent's public comments about school library books marked a lively — and sometimes contentious — meeting Thursday.
With Tom Domonoske rejoining the board, it was the first time the Harrisonburg City School Board had its first "full slate" of six members at since this summer — before Nick Swayne's resignation. Domononske, whom the board appointed last week to fill Swayne's spot, last served on the board in 2015.
And Deb Fitzgerald, the interim board chair, told Domonoske that the board was "ready to put you to work." Her promise rang true Thursday.
The board attempted to approve an updated policy about its own travel, which included that the school district will reimburse the school board member up to $1,000 for related expenses and that "the School Board shall reserve the right to approve or disapprove any member's request to participate in more than one such opportunity."
Richards said if $1,000 is too low, he would be OK with raising it, but that a limit is necessary.
"I see how much discretionary money we members have been spending," Fitzgerald said. "With an exception here and there, most people came under the $1,000 limit, so I'm going to support Richards' recommendation for the $1,000 limit."
"I think $1,000 is a quite reasonable limit," Andy Kohen agreed.
Obie Hill objected.
"I obviously disagree with this. The reason we're having this conversation is because of my travel to Atlanta," Hill said.
Richards said the board wasn't discussing this because of Hill's travel but because it's in the process of reviewing all board policies. Hill disagreed, saying he believed it stemmed from a conference he attended in Atlanta.
"The conference I went on was about Black and Brown students, as well as all other students, and what we can do here to change the gifted and talented program," Hill said. "Math, English, science scores, all those things are very important to us. And if we want to talk about diversity and inclusion, then trips like this should be accepted and we should be able to make that decision as a board and not put a $1,000 limit on it."
"We're spending taxpayer dollars," Fitzgerald said.
"There's no secret that Black and Brown students are lagging behind in science, math and English," Hill said. "Am I right or wrong?"
"I don't think that's the point of this policy," Kohen said.
"Of course it's not," Hill responded, adding he believes the board should maintain the authority to approve or disprove travel decisions, as well as keep the public informed. This, he argued, should not be limited to $1,000.
"What I hear is discussions that don't seem to be talking about exactly what this policy is saying," Domonoske said. "It seems, to me, to allow for discretion to board members that didn't exist before."
Domonoske explained that the dollar amount isn't the significant piece of this policy. Instead, it's aimed at clarifying that the board members' can choose to spend up to $1,000 to attend events — including state and national school boards association conferences, workshops and conventions or district-sponsored training sessions — without requiring the board's authorization, he said.
Richards confirmed that Domonoske's interpretation "accurately reflects the intentions of this policy."
Fitzgerald suggested the board take one more look at the suggested policy after more revisions are made by Richards and his team. Domonoske's legal knowledge, Fitzgerald said, would be beneficial in taking another look as well.
"The fourth time will be a charm," Fitzgerald said, as the board agreed to table the vote. 

Book challenge discussion returns
After talking during the meeting's public comment period about his concerns over the Garbers Church Road speed limit, Harrisonburg resident Jason Calhoun abruptly switched topics to LGBTQ+ books in the city schools' libraries.
This isn't the first time Calhoun spoke about the issue. Last November, he presented to the board six books he checked out from school libraries. The books all contained LGBTQ+ discussions.
Five days after that on Nov. 11, Richards explained to The Citizen that he pulled the book "Gender Queer," a memoir by Maia Kobabe, from the high school's library. It later went through a review because, as Richards said the following week, the district has an obligation to put challenged material through a process that ensures a deliberate and balanced outcome.
One of the books Calhoun addressed on Thursday was "Gender Queer," that same book at the center of the controversy last fall. Calhoun began to read aloud a sexual scene from the book but was cut off by the beeping timer. Each public comment is limited to three minutes.
"Dr. Richards said he pulled the books out of the library, which didn't actually happen because I have the books at my house," Calhoun said Thursday. "Now I'm getting calls from parents saying these books are back in the library. That's very concerning that we have graphical pornography—"
Fitzgerald interjected, explaining that his time for comment was up, but the board would be happy to receive any further concerns in writing.
Richards later told The Citizen in an interview that the district's review process determined "Gender Queer" was not obscene becuase of its educational literary purposes. Therefore, the book was placed back on the shelves.
"My priority is to protect these children," Richards told The Citizen. "But these books are educational and they are not against the law."

New paint at Rocktown
There was some less controversial news that came out of Thursday's meeting.
Craig Mackail presented an update on Rocktown High School construction. The softball and baseball fields are getting sod, fences will soon be added and trees are being planted so they'll already be growing by the time students walk through the doors. As for the inside of Rocktown High, windows and panes are being added and a few walls are even being painted a bright, sunshine yellow, along with a sky blue wall near what will be the fine arts area.
"Finally we got a color other than white," Mackail said.
Rocktown High's construction is still on schedule, Mackail said. The school is slated to open in the fall of 2024.

'Crunch heard 'round the commonwealth'
Andrea Early, director of school nutrition, presented to the board Farm to School week and National School Lunch week activities. Farm to School week is an annual event for HCPS, which Early said encompasses "improving access to healthy local foods for students," as well as the educational aspects of how food grows and where it comes from.
Some local farms and producers participating in Farm to School week include Portwood Gardens, Seven Hills, the Shenandoah Valley Produce Auction, Glenmore Farm and many others.
Kathy Yoder, of HCPS and the Vine & Fig program of the new community project, said Vine & Fig has hosted field trips, taught students how to compost and created a "pizza garden" for students at Waterman Elementary. Students patiently waited for their tomatoes, peppers and basil to grow until this week, when they were surprised with a pizza made from all their own ingredients. Yoder said her students told her they "could still smell pizza" in the garden today.
Early gave each board member an apple — from Showalter's Orchard in Timberville — for what she called the "crunch heard 'round the commonwealth." She instructed each board member to take a bite out of their apples at the same time to celebrate their appreciation of local farms. Each board member crunched down on their apple and a chorus of satisfied tastebuds followed.
Also at the meeting: 
Richards recognized Michelle Hunt, an economics teacher at Smithland Elementary. Hunt won a JMU contest with her lesson "Creating an Economics-Minded Classroom" and later won second place in the state.
And the district was recognized for its employee pay. It achieved silver status in the living wage campaign last year and has reached gold status in 2022."That doesn't mean our work is ending there," Richards said. "We're going to continue pushing forward in paying our employees what they deserve."
---
Journalism is changing, and that's why The Citizen is here. We're independent. We're local. We pay our contributors, and the money you give goes directly to the reporting. No overhead. No printing costs. Just facts, stories and context. We're also a proud member of the Virginia Press Association. Thanks for your support.