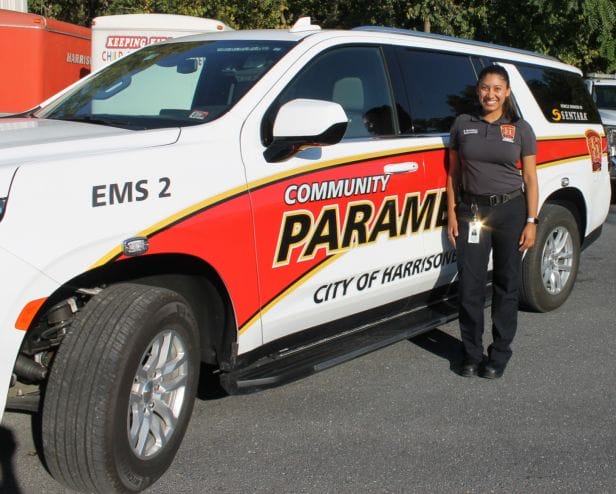 By Eric Gorton, senior contributor
Cindy Ramirez knows firsthand the difficulty people from underserved populations have navigating the U.S. health care system.
Growing up in Harrisonburg as the primary interpreter for her Spanish-speaking immigrant parents, Ramirez said she was her parents' connection to the world around them, including making doctor appointments and managing other healthcare needs.
Taking a job to help some of the city's most vulnerable residents seemed like a natural fit.
"I've always known that my career goal was to be in healthcare but more specifically with underserved populations," said Ramirez, 26, who was hired in May as the first full-time paramedic in the Harrisonburg Fire Department's fledgling paramedicine program.
The city received a $600,000 grant from the federal Bureau of Justice Assistance to launch the program that aims to reduce the number of non-emergency calls made to 911, calls that require a response from law enforcement and/or medical first responders.
"The last thing that we should be doing is sending law enforcement to individuals experiencing mental health emergencies," Harrisonburg Fire Chief Matt Tobia said in an interview with The Citizen in February. "We should be sending community paramedics and social workers. That's what we are trying to do."
The program also received $290,000 from the Sentara Cares Foundation, said Becky Teter, a nurse case manager with Sentara RMH Continuum Case Management and a member of the paramedicine program hiring committee. Tobia said that money was used to purchase and equip the Community Paramedicine vehicle.
Ramirez, after graduating in 2019 from JMU with a degree in health sciences, thought she might end up working in a clinic or a hospital, but she also trained as a medical first responder, initially as an emergency medical technician and then as a paramedic. She has been a national registered paramedic since 2020 and was working as a 911 paramedic in Staunton before taking the HFD job.
While being a paramedic is required to work in the community paramedicine program, the duties are quite different from those of a 911 paramedic. As a first responder, the job involves giving aid at the moment of a medical emergency. In the paramedicine program, Ramirez will still sometimes respond to 911 calls, but she also makes lots of appointments with people who regularly call 911 in non-emergency situations.
"They have a plethora of issues involving mental health, substance use, a lot of times a combination of all of those things," Ramirez said. "If they need immediate help, you go and pick them up and take them to the hospital."
However, Ramirez is trying to educate people who call 911 for non-emergencies to call the paramedicine program, which is based at the fire department headquarters downtown. Some of the non-emergencies have included people just wanting rides.
"I think one of the things with a lot of our clients who are homeless and who are on substances, and mental health conditions, they almost can't conceptualize it, that they shouldn't just call 911 because of instant gratification," she said. "That's what they want. 'I have this need and I want (help) right now.' We try our very best to get them to understand, if you feel like you are having a medical emergency then yes, call 911, otherwise, call us."
Starting a brand new program has had challenges and rewards, Ramirez said, noting there has been some trial and error in figuring out how to make it work. She is getting help from a pair of part-time paramedics, Adam Nulty and Dustin Wampler, who were hired early this year to help launch it. Nulty and Wampler also work full-time jobs with other departments in the area.
In an email on Wednesday, Tobia said the program is coming to life "exactly how we hoped it would. We have introduced this program carefully following a crawl-walk-run model because it is a new service in our community. I am extremely proud of the entire team that has been involved in the program's launch."
Part of figuring out how to make the program work has involved visits to established programs in Colorado Springs, Colorado and Asheville, North Carolina.
"Those best practices provide a roadmap for us to follow," Tobia stated in the email.
Said Ramirez, "They're a little different because they are tailored to their communities but we saw how very well-established programs are functioning and what they were doing for their community."
Part of the learning curve has been figuring out how the program can function without duplicating the efforts of other service providers. Among the agencies the program works with is the Harrisonburg Rockingham Community Services Board and Sentara RMH.
"We know the ones who are calling 911 a lot, but ironically a lot of these people I've come to find out are already to an extent pretty plugged in on resources," Ramirez said. "They just have very complex backgrounds and lives and a lot has happened in their life that despite already being very plugged in with all resources, they're still calling. That's been a challenge."
Among the rewarding experiences has been helping a man who doesn't speak English learn about his heart condition and how to care for himself.
"He was unable to manage it on his own. He didn't know how to take his medications, he didn't know when to take his medications, he didn't even really know where to get his medications," Ramirez said. In partnership with Sentara, Ramirez has helped the man learn about diet, exercise, watching his weight and taking his medications.
"Cindy, Dustin, and Adam are deeply passionate about advocating for at-risk community members," Tobia said. "We are working very closely with both government and non-government agencies to match individuals with services and look forward to expanding the program in the future."
Teter, who has been a paramedic, said she's happy to see the program get started. "I think there's definitely a need out there. It takes time as with any new program to reach out and to make connections with all of the agencies and to get those referrals and to start building those relationships. But I think there's a huge need and I think it will continue to grow."
For now, Ramirez, Nulty and Wampler are covering shifts from 8 a.m.-6 p.m. Monday through Saturday as much as possible.
Editor's note: this story was updated on Oct. 25 to correct information about what the Sentara Cares Foundation funding was used to purchase
---
Thanks for reading The Citizen, which won the Virginia Press Association's 2022 News Sweepstakes award as the top online news site in Virginia. We're independent. We're local. We pay our contributors, and the money you give goes directly to the reporting. No overhead. No printing costs. Just facts, stories and context. We value your support.