By Ryan Alessi
After deciding earlier this summer on a policy to continue crediting customers who install solar panels, the members of the Harrisonburg Electric Commission made it clear that their conversation about solar energy's future in Harrisonburg wasn't done.
"This is not off the table. This is not going away. This is something we will continue to discuss," said Daphyne Thomas, the commission's chair, near the end of the utility commission's June 26 meeting.
In fact, the HEC commissioners expect to discuss in depth what they're calling "pathways to solar" during the commission's Sept. 24 meeting. What they decide could lead to more ways for the utility's customers to purchase power from renewable resources like sunlight.
This comes as Harrisonburg has established itself as an outlier among communities with publicly-owned utilities in terms of the number of customers with solar arrays on their homes or businesses. There's also been a rapid expansion for renewable energy in general, and for solar power specifically, across the country.
The commission tasked Maria Papadakis, who became a commissioner in February, and HEC General Manager Brian O'Dell to explore which options are possible for HEC considering its long-term agreement to buy electricity from Dominion Energy. O'Dell confirmed the contract with Dominion will be renegotiated in 2023.
Possible paths
O'Dell and Papadakis, who is a JMU professor specializing in energy efficiency and conservation, plan to outline the different options and the costs and benefits for each.
"We have nothing specific in mind or in place, but we're just looking at what the possibilities are that we could do to begin to explore more energy diversity," Papadakis said.
Four potential "pathways" to encourage solar include:
Continuing to compensate customers who install solar panels on their homes and businesses for the power those arrays generate. In fact, commissioners expect to revisit whether to further raise what's called the net-metering cap that commissioners set in June.
At that meeting, the commissioners decided to continue providing credits on electricity bills for customers with solar panels until the solar energy generated reached 2 percent of the amount of power used during peak consumption. Commissioners, though, are exploring whether to raise that cap to 5 percent.
It's not an urgent issue. As of mid-July, O'Dell reported 128 Harrisonburg residents had installed solar panels totaling 1,369 kilowatts. Four more projects totaling 52 kilowatts were pending. Once completed, they would bring the total share of solar installations to a tick shy of 1 percent, O'Dell said.
Encouraging more HEC customers to purchase Renewable Energy Certificates— an existing program that few use. Customers who buy Renewable Energy Certificates — on top of their regular electricity bills — allow the HEC to purchase electricity from Dominion Energy that was generated from green sources. For every $6 customers contribute through the program, the HEC can add a block of 1000 kilowatt hours onto the city's grid. That's enough to run 33 houses for a day. Only 42 HEC customers are enrolled in the program, O'Dell confirmed to The Citizen.
Power purchase agreements, in which the utility could arrange to buy power from an outside company that owns and operates solar arrays.
Community solar developments, in which residents would band together to fund and build and maintain a solar array to pump power into the grid.
Those last two would require additional discussions with Dominion because of the agreement HEC has to buy the electricity from the power company, Papadakis said in an interview with The Citizen. But Dominion so far has been receptive through the information-gathering process, she said.
A fifth pathway used by other publicly-owned power companies would be building a solar array to generate power. But HEC's contract with Dominion prevents the municipal utility from generating its own electricity.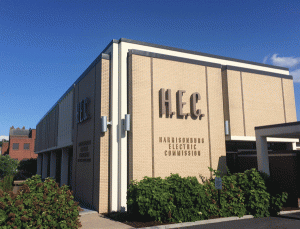 "That is definitely closed off to us because of the contract," Papadakis said.
The task before the September meeting, Papadakis said, is not only to evaluate each pathway individually but to see how they would affect one another if the commission decides to embrace multiple options.
"What we really have to look at is: What are the interactive effects between those pathways for the utility," she said. Doing so, involves making assumptions about how prices could escalate and future costs.
Deciding to move forward with any one policy has a ripple effect, both financially on customers and the utility. HEC is charged by the city with providing affordable electricity rates to residents. Those rates are the cheapest in the state and could go lower if the HEC decides next month to cut rates, as discussed at last week's meeting.
An increasing trend
A little less than 1 percent of power coming from solar might not sound like much, but it's far more than many other Virginia communities. As O'Dell told the commission earlier this summer, HEC has more customers generating solar power than the other 16 municipally-owned utilities — combined.
And when Papadakis attended a national conference hosted by the American Public Power Association this spring, many of the other representatives from municipally-owned utilities were impressed with Harrisonburg residents' investment in solar.
"People were astonished that we had 1 percent already," Papadakis said.
That community demand for and commitment to renewable energy is one reason HEC commissioners are exploring more ways to encourage it, in addition to the sustainability and environmental benefits, Papadakis said.
But there's also a growing trend nationally for power companies and publicly-owned utilities alike to look to renewables. PJM, which is the regional transmission organization that oversees the flow of power across 13 states and the District of Columbia, keeps track of power projects that are under construction or in the works. A review of that list shows one coal plant, one diesel plant and 18 natural gas-fired plants in development compared to 18 solar, 13 wind and two hydro-electric projects.
Solar's popularity has increased as panels became more efficient and their prices dropped.
Many of the more than 2,000 communities that get their power from publicly-owned utilities, such as HEC, are implementing policies to increase reliance on renewables, said Paul Zummo, director of policy research and analysis for the American Public Power Association.
Six public utilities in the United States get 100 percent of their electricity from renewable energy like wind, solar and hydro-electric sources, according to information Zummo provided. That includes Burlington Electric in Vermont, the Aspen and Estes Park communities in Colorado, Greensburg in Kansas, Georgetown in Texas and Rock Port in Missouri. Another Colorado community, Glenwood Springs, also announced this summer it would be purchasing all its power from renewable sources.
In Virginia, Bedford and Danville have installed their own solar arrays, said Alice Wolfe, general manager of the Blue Ridge Power Agency.
And up I-81 in Front Royal, the municipal utility buys its electricity from Ohio-based American Municipal Power Inc., which is a non-profit wholesale electric power provider. Front Royal worked with American Municipal Power to build a solar farm in 2015.
Local forces
Because each community has its own economic circumstances and might lend themselves toward certain power sources, demand for renewables often bubbles up.
"This is very much a local decision, and these decisions are influenced by local circumstances," Zummo said.
That's one of the reasons Jeff Heie, a solar advocate and program coordinator of Give Solar, and other solar proponents have been attending recent HEC meetings and urging city leaders to shift toward renewable energy. Heie said he is feeling cautiously optimistic.
"That was pretty refreshing to hear that kind of language at an HEC meeting," he said. "Looking at it from broader perspective, I don't think HEC is moving fast enough."
For instance, a city-appointed committee of which Heie is a member — the Environmental Performance Standards Advisory Committee — recommended last year a host of energy and efficiency goals, including transitioning completely to renewable energy sources by 2050. However, the renewables target got dropped along the way.
Heie said protecting the environment and investing in sustainable power sources should be a higher priority. But he said making meaningful strides would require the city to formally direct HEC to focus on encouraging renewable energy and for HEC to have more latitude with its Dominion contract.
"I don't blame the HEC commissioners who are doing the best that they can within their constraints," Heie said. "I think they're getting to the point of taking clean energy seriously, but I think the constraints are too significant for HEC to take clean energy as seriously as it should be taken, according to what the science says about climate change."
---
Journalism is changing, and that's why The Citizen is here. We're independent. We're local. We pay our contributors, and the money you give goes directly to the reporting. No overhead. No printing costs. Just facts, stories and context. Thanks for your support.