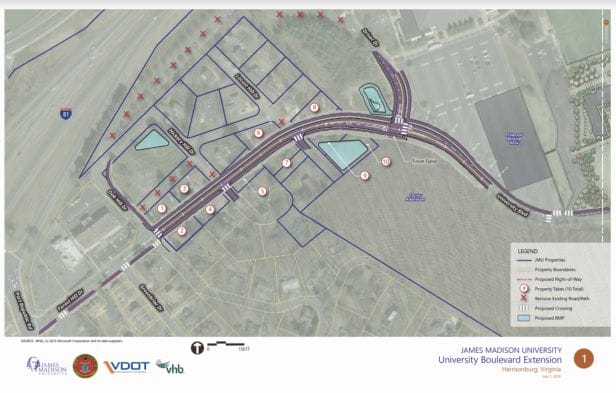 By Randi B. Hagi, senior contributor
With an eye toward improving the ability to get around Harrisonburg, the City Council gave the go-ahead for the Department of Public Works to seek state grant money for a pair of projects on different sides of town — a major re-routing of University Boulevard east of JMU's campus and construction of sidewalks on the north part of Main Street.
The unanimous approval to pursue grant money means the projects could be finished by the end of 2023.
If the project gets state funds, University Boulevard will change course – cutting across land owned by James Madison University to connect directly with Forest Hill Road. Public Works would then eliminate the bend that connects University to Oak Hill Drive.
Director of Public Works Tom Hartman said in the council meeting that staff have been working on this proposal for more than a year and a half with the help of JMU, collecting data on the area's traffic patterns. Adding this direct route from the campus out to Port Republic via Forest Hill will relieve pressure on other nearby roads, he said.
"Transit wants this project tomorrow," he added.
JMU will donate all right-of-way land needed for the project, valued at more than $3 million, Hartman said. The total cost of the project is $9.1 million. Public Works is applying for half that amount from a Virginia Department of Transportation Revenue Sharing Grant. JMU would pay for the other half.
Hartman said the only cost to the city would be "administrative time." If the grant is awarded, and barring major obstacles, construction could be finished by December 2023.
His department is also applying for a state Transportation Alternatives Program grant to the tune of $703,387 to construct a sidewalk and improve stormwater drains along North Main Street — from Holly Hill Drive to Vine Street.
So many people walk this stretch, Hartman said, that "you'll see the dirt path that's already worn there."
The city would be responsible for the remaining 20 percent of the project cost – funds that have already been allocated, Hartman said. Construction could wrap up in December 2022 at the earliest.

Community Services Board update
While the council formalized its annual approval of a state performance contract for the Harrisonburg Rockingham Community Services Board, it offered the agency an opportunity to outline some of the improvements to the agency, which is an administrator of mental health, substance abuse, and other related services.
The upcoming facilities expansion will double the agency's capacity, said Executive Director Ellen Harrison. And it has implemented three of the nine core steps of the state's System Transformation Excellence and Performance program that's aimed at improving such services. 
The three steps the local community services board has taken are: providing same-day services, primary care screening for medical services not provided at the CSB and expanding therapeutic outpatient services.
Next up, Harrison said, is developing a children's mobile crisis program to "decrease the amount of hospitalizations" that result from mental health crises with minors.
"It's a huge, heavy lift" for community services boards across Virginia, Harrison said.
She also noted that eight percent of their staff positions are currently vacant. As CSBs across the state grow, Harrison said, they compete for qualified staff.
"We're stealing from one another," Harrison explained.
The annual agreement between the local board and the state Department of Behavioral Health and Developmental Services is required because the agency is publicly-funded. Harrison said the contract outlines "for us how we're going to do business," but that there were no significant changes from last year.
Also at the meeting:
Mayor Deanna Reed announced a public input meeting for the downtown parking study at the Ice House tomorrow at 6 p.m. There is also an online survey available until Sept. 6.
Another public input meeting will be held Sept. 5 at 7 p.m. at the Lucy Simms center regarding the Purcell Park master plan.
Carrie Budd, Vice President of Development & Community Relations for the Bridgewater Retirement Community, presented on its ongoing Senior Community Needs Assessment, which asks local seniors and their caretakers about their concerns and challenges to aging. Budd said more than 400 people have responded so far, and the goal is to get a few thousand total. A complete report, including a demographic analysis of area senior citizens, will be available in January.
The council voted unanimously to amend the noise ordinance once again, this time limiting construction noise after 10 p.m. to 55 decibels.
Mayor Deanna Reed noted that Harrisonburg High School honored Coach Roger Bergey by naming the basketball court after him in a ceremony on Tuesday – an initiative led by hometown basketball hero Ralph Sampson. "Coach Bergey was there when I was in high school!" Reed said.
Luke Begovich from the Keystone Mountain Lakes Regional Council of Carpenters based in Charleston, W.Va., said during public comment that his organization was investigating "the issue of labor brokers and what is going on in state-funded projects" in the region – namely, contractors hiring work out to subcontractors who pay their laborers in cash, avoiding state taxes and unemployment payments.
Journalism is changing, and that's why The Citizen is here. We're independent. We're local. We pay our contributors, and the money you give goes directly to the reporting. No overhead. No printing costs. Just facts, stories and context. Thanks for your support.