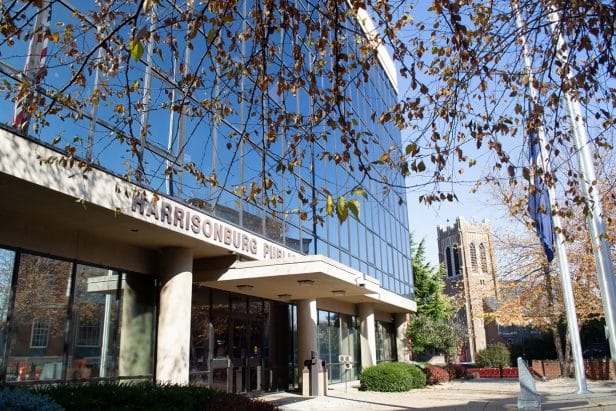 By Daniel Robinson, contributor, and Ryan Alessi, publisher
With about 20 open positions in Harrisonburg Police Department and the fire department preparing to add a new station, the city is trying a host of strategies to attract applicants for first responder jobs.
Last Thursday, for instance, representatives from the Harrisonburg Police Department, Harrisonburg Fire Department and Harrisonburg-Rockingham Emergency Communications Center were on hand at City Hall for a job fair to educate potential applicants about the realities and benefits of working in public safety. Each agency set up a table in the building's lobby with informational materials and agency employees ready to answer questions. 
The police department could really use the reinforcements, Police Chief Kelley Warner said, as another retirement last month brought the total vacancies to 21 out of 112 positions.
"So, operationally, it's been extremely difficult because we've had to redirect other personnel from their special units to backfill," Warner told The Citizen in an interview after the March 22 city council meeting. "It has handcuffed me from providing other specialty services that the city has been accustomed to."
For example, she said the department has had to divert officers from traffic enforcement.
"And community outreach is going to be more of a challenge" as the department focuses on ensuring shifts are covered, she said.
Police officers at Thursday's job fair sought to convey an accurate idea about the realities of the job, including what the shift structure is like, what typical days on the job are like and the department's emphasis on community policing policy.
"If someone has an idea that public safety is a career they want to explore, we're here to give them the information they need to make that decision," Officer J.A. Langhans said.
Harrisonburg-Rockingham Emergency Communications has six job openings. At full staff, that department has 41 full-time staff and 10 part-time staff to cover the 'round-the-clock shifts every day of the year. That department receives all emergency and non-emergency calls for public safety agencies in Harrisonburg, Rockingham County and towns within the county.
"We're here to try to recruit our next team members to meet the demands of the call volume," said Chad Siver, operations team manager at Harrisonburg-Rockingham Emergency Communications.
At the communication center, new employees can start with no prior experience and get on-the-job training. Full training usually takes one year.
Unlike the police and emergency communications center, the Harrisonburg Fire Department has no vacancies now, but the department is preparing to expand when Station 5 on the north end of the city near EMU is built. It's slated to open in 2025.
Marques Bush, deputy fire chief of support services, said the department wants to recruit the best talent possible.
"People don't realize that the fire department isn't just for fires," Bush said. "About 58% of our responses are for medical calls."
Bush said the fire department requires people with a range of skills, including information technology, logistics and construction trades.
"There's lots of stuff that happens in the background," Bush said. "Only 80 of our 103-person staff actually respond to calls."
And that was why experienced first responders wanted to talk with prospective applicants, who trickled in throughout the evening.
"It's easy to see how movies and TV shows portray these jobs," said Erin Stehle, the Harrisonburg Fire Department's public education officer. "But this is an opportunity for our department to meet the community and answer questions."
And Harrisonburg isn't alone, as other Virginia cities are struggling to fill a host of vacancies among the ranks of first responders, said Warner, who added that she speaks with fellow police chiefs across the commonwealth.
"We're not only the only ones dealing with this," she said.
But Warner said she's been encouraged by recent city council meetings in which hiring efforts and resources for the first responders have become key discussion topics.
Earlier this year, council member Chris Jones called for an advertising campaign to attract more applicants for public safety jobs. The city already placed ads on city buses in March.
The city is in the process of hiring a consultant to conduct a review of city employees' salaries and compensation, said Michael Parks, the city's communication director. In the meantime, the city council approved a 5% mid-year pay increase and $3,000 retention bonus for all city workers.
The city also provides a $6,000 sign-on bonus spread out over several years for newly-hired officers, Parks said.
Because of those steps, as well as the council's interest in addressing the hiring struggles, Warner said she's confident those reinforcements will arrive.
"There's a great energy with the council," she said.
---
Journalism is changing, and that's why The Citizen is here. We're independent. We're local. We pay our contributors, and the money you give goes directly to the reporting. No overhead. No printing costs. Just facts, stories and context. We're also a proud member of the Virginia Press Association. Thanks for your support.