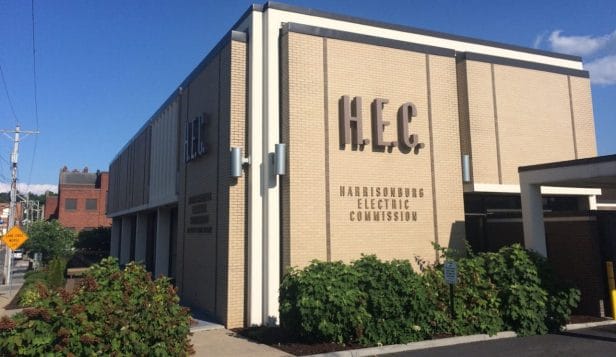 By Eric Gorton, senior contributor
Harrisonburg Electric Commission bills will increase this month because of the continuing rise in natural gas prices.
This will be the third increase in 18 months, all because of natural gas prices.
HEC General Manager Brian O'Dell said in an email to The Citizen that November bills will reflect a 1.1 cents per kilowatt hour (kWh) increase in the fuel cost adjustment charge. That amounts to a 50% increase of that specific piece of a customer's bill, from 2.26 cents per kWh to 3.36 cents per kWh.
For the average customer using 1,000 kWh per month, the increase will add $11 to the monthly bill, going to $33.64 from $22.64.
This is the second consecutive year that HEC has had to increase the fuel cost adjustment mid-year, something it had never done before last year, O'Dell said.
Dominion charges HEC for fuel based on forecasts, and HEC passes that charge on to its customers. Fuel factor data is reviewed every six months to see how actual costs compare to what was forecast.
Before November 2021, the actual costs had always come close enough to the projections to maintain the rate set in April. Fuel cost adjustments, up or down, are generally made each spring. But a steep increase in natural gas prices during the past two years, which Dominion uses to power some of its electricity generating plants, has necessitated the past two mid-year adjustments.
O'Dell said fuel cost adjustment charges from April through September netted $10.3 million less than actual costs and without a mid-year adjustment the disparity would climb to $23 million by the end of March 2023.
In November 2021, HEC raised the fuel cost adjustment per kWh by a full penny, to 1.439 cents from .439 cents. That added $10 per month for the average residential customer using 1,000 kWh per month.
In May, HEC added another .8 cents per kWh for fuel, bringing the fuel cost adjustment to 2.26 cents per kWh.
O'Dell offered more positive news about the Acorn Drive solar plant, which began putting power on the HEC grid Tuesday following more than a month of delays.
With power now coming from the Acorn Drive plant, HEC will start billing subscribers to Friendly City Solar this month.
"We don't charge fuel on the renewable energy from Acorn," O'Dell wrote. "With the increase in fuel charges, currently there is a net benefit instead of a net charge to participate in this program."
Friendly City Solar subscribers pay 3 cents more per kWh on the amount of energy they signed up for because it costs more to produce, O'Dell has said. However, in addition to not being charged for fuel on that portion of their bill, the per kWh cost will be fixed for the next 25 years.
Customers can purchase up to 25% of their energy through Friendly City Solar. The program was designed so up to 1,000 residential customers using an average of 1,000 kWh per month could participate.
As of the Oct. 25 meeting of the HEC board, 200 customers had signed up.
O'Dell recommended the board keep the 25% per customer limit until spring. If subscriptions are lagging then, changes could be made, including offering customers the option of purchasing more than 25% of their energy through Friendly City Solar.
---
Journalism is changing, and that's why The Citizen is here. We're independent. We're local. We pay our contributors, and the money you give goes directly to the reporting. No overhead. No printing costs. Just facts, stories and context. We're also a proud member of the Virginia Press Association. Thanks for your support.