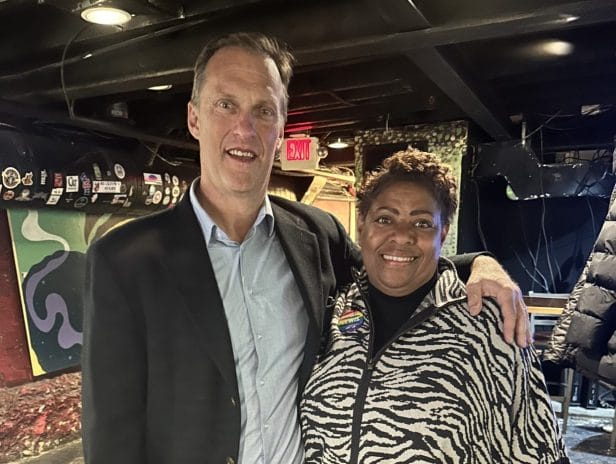 Editor's note: this story was updated for a final time at 10:50 pm.
According to results tabulated by the city registrar, Democrats Monica Robinson and Dany Fleming were elected to fill two open seats on the Harrisonburg City Council on Tuesday night. Robinson earned 5,513 votes, while Fleming earned 5,384. Independent candidates Rick Nagel and Marshall Orenic finished third and fourth, with 3,330 and 3,148 votes, respectively.
Both Robinson and Fleming will be newcomers to the council, filling seats previously held by Sal Romero and Chris Jones. After serving one term, Romero decided not to seek reelection. Jones finished behind Robinson and Fleming in the Democratic primary, held in June to choose the party's candidates for two open seats.
Jones will be returning to council as well, however, after running unopposed on the ballot in a special election to fill the remaining two years of George Hirschmann's term. Hirschmann, an Independent, resigned from council in May due to health reasons. Jones earned 6,389 votes.
With Jones and Robinson to join Mayor Deanna Reed on city council, Harrisonburg is set to a the first majority Black council in city history.
"I'm very, very happy about it, and I'm just hoping that people who see us, young girls who see us, young boys who see us, know that this is something that can happen for them," Robinson said.
Tuesday's election also means Harrisonburg will have its first all-Democratic council in recent history.
Speaking at Clementine Cafe, where city Democrats gathered on election night, Fleming said he was grateful to the team that helped his campaign.
"I think its confirmation of a lot of teamwork, and a lot of people working together to make this happen," he said.
Both Robinson and Fleming said they intend to tackle spend time learning the job from the current council members.
Jones said that he was grateful to be returning to council, and was excited to continue working for the people of Harrisonburg.
"It's not all about me, it's all about us," Jones said. "It's all about moving Harrisonburg forward, and building a better 'Burg."
After polls closed, Nagel and Orenic attended the city Republicans' election night gathering at El Charro.
"I felt that I could bring a lot to city council," said Nagel, after results were in on Tuesday night. "If you followed my campaign, on affordable housing, education, public safety, bringing higher-paying jobs to Harrisonburg … Am I disappointed? Of course I'm disappointed. But that's our democratic process."
Also speaking Tuesday night after results were in, Orenic described his campaign as an "amazing journey."
"I learned a lot, talked to a lot of really nice people," Orenic said. "A lot of people voiced their concerns with city council action, and not listening, and things like that, so I was a little surprised that the results were the way the were based on the people that I talked to. But I'd go back and do it all again."
— Reporting by Bridget Manley and Haley Thomas
---
Journalism is changing, and that's why The Citizen is here. We're independent. We're local. We pay our contributors, and the money you give goes directly to the reporting. No overhead. No printing costs. Just facts, stories and context. We're also a proud member of the Virginia Press Association. Thanks for your support.