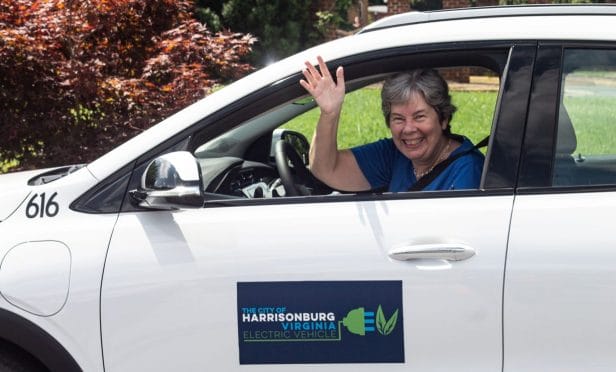 By Ryan Alessi, publisher
In one of its briefest meetings, the city council on Wednesday pushed back public hearings on a series of zoning and development issues until Nov. 22 and delayed appointing a new Harrisonburg Electric Commission board member until Dec. 13.
Postponing a vote on the HEC appointment came at council member Laura Dent's request so that she could talk with each of the three candidates, who include two attorneys, Quinton Callahan and Jennifer Shirkey, and former city council member Abe Shearer. The HEC's board selected those three candidates from a pool of applicants, and the city council can appoint one of the three as a replacement for HEC board chair Hobey Bauhan, whose term ends at the end of this year.
While other council members, including Vice Mayor Sal Romero and council member Chris Jones, said they were ready to vote on Wednesday, the council agreed to delay until its December meeting to give Dent the chance to talk with the candidates.
Dent said she didn't have time to set up interviews in the week between learning of the nominees and Wednesday's council meeting. (The council met a day later than usual because Tuesday was Election Day.) And she said didn't know any of the three candidates, including Shearer, who served on the city council from 2013-17. Dent was first elected in 2020.
"Part of my thinking here is that most of my fellow council members know at least him," Dent told The Citizen after the 30-minute meeting ended Wednesday. "And at least one of my fellow council members said they know all three."
Dent has been outspoken on the council about environmental conservation and sustainability and has participated in climate-related marches, such as the "Climate Strike" earlier this fall. She said she wanted to do her homework on the HEC board nominees, and that included talking with the each about skills and experiences relevant to overseeing the multimillion-dollar, city-owned electric utility. 
Callahan, an attorney with Clark & Bradshaw, serves as town attorney for Timberville and said in his application for the board position that he has worked on "various ordinances and issues related to utility services" and with government regulations. 
Shirkey, an attorney and shareholder with the law firm Flora Pettit PC, wrote that she has served as special legal counsel to municipalities and school boards, and serves as assistant commissioner of accounts for the Rockingham County Circuit Court. 
Shearer is an investment adviser with Strategent Financial and said in his application that he enjoyed dealing with HEC-related issues during his term on the city council. He also wrote that he enrolled in HEC's Friendly City Solar Program, which allows customers to get 25% of their electricity from the newly operational Acorn Drive solar farm.
"This new program … represents a forward-looking way of providing renewable energy to many, rather than a few," Shearer wrote.
Customers in the program pay a slightly higher premium but lock in that price for 25 years.
Friendly City Solar has been one of the HEC initiatives Dent said that she has closely followed. As The Citizen reported last week, only about 200 residents had signed up for the program so far — as of late October — even though the utility had planned for 1,000 residents to enroll. At the same time, the HEC confirmed it would have to raise a fuel surcharge that Dominion Energy is passing along as a result of rising natural gas prices.
Dent said this makes the Friendly City Solar program a cost-saver.
"What I've been saying is even though it's a premium to start with, it locks in the price over 25 years. So it very rapidly will become a savings … as the fuel prices from Dominion keep going up. And lo and behold, that has already happened," she said. "And that has happened faster than we thought, and my hope is that will accelerate the interest and the subscribers because it's solar — and any solar is good solar."
Dent said she had a "wide-ranging" two-and-a-half-hour meeting with Brian O'Dell, the electric utility's general manager. Among Dent's concerns, she said, is the lack of flexibility HEC has with choosing where it gets the power that city residents and businesses use. HEC has a contract with Dominion Energy, which operates 20 power plants that use fossil fuels, such as coal, oil and natural gas, although it's been increasing its portfolio of renewable electricity generation in recent years, including the Acorn Drive solar plant.
"HEC is a distributor with Dominion as the supplier," Dent said. "So that's where the push-pull comes in when we're saying, 'We want green energy faster than Dominion is being mandated to do it under the Virginia Clean Economy Act.' So how do we make it go faster?"
That is likely to be one of the issues that comes up again next week at the Nov. 15 special meeting of Environmental Performance Standards Advisory Committee, or EPSAC, which is made up of community members and makes recommendations to the council. The committee will review an update of the Greenhouse Gas Emissions Inventory from Sean McGinnis, the director of green engineering at Virginia Tech. McGinnis presented the city council last year with findings about the city's emissions between 2016-19.
The greenhouse gas study examines different sectors of the community, including residents, businesses, JMU and city-owned properties and services, such as buses and buildings.
"We can control what the city government does only," Dent said. "So my premise there was in order to meet the goals that we have to, we need to have the whole community's involvement — not just city buildings." 
---
Journalism is changing, and that's why The Citizen is here. We're independent. We're local. We pay our contributors, and the money you give goes directly to the reporting. No overhead. No printing costs. Just facts, stories and context. We're also a proud member of the Virginia Press Association. Thanks for your support.