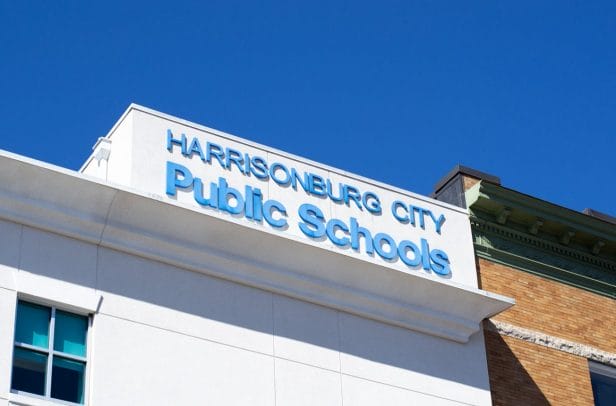 By Haley Thomas, contributor
Superintendent Michael Richards told city public school staff in an email Tuesday morning that he will propose money in next year's budget to fund ways aimed at improving teacher morale in the district.
School leaders are working to identify short-term ways to ease the workloads and burdens on teachers and "longer-term fixes that will take some time to address consistently across the division," Richards wrote in the email, which he provided to The Citizen.
Despite a state budgeting error that recently overestimated local school division aid by more than $200 million across Virginia, Richards said in the letter that the Harrisonburg schools' proposed budget for next year will include money for additional permanent substitute positions.
Richards will propose that to the board in March.
He called the addition "a big price tag," but said such "hybrid" positions could cover teachers during their breaks, supervise recess and ultimately help teachers make better use of their time. Each elementary school in the district has one permanent substitute, but neither the middle schools nor Harrisonburg High School have one assigned.
"Additional positions are always contingent upon the budget, which doesn't become crystal clear until the General Assembly publishes theirs about a month from now, but I am optimistic that these positions will survive," Richards wrote.
Teachers also have called for more planning days to be built into the academic calendar for them to plan lessons, grade papers and correspond with parents.
Teachers at the school board's Jan. 17 work session said these days never go uninterrupted by mandatory meetings and other requirements. Their growing frustrations prompted Richards to write that recommendations for a calendar with "unencumbered work days" included will come before the board on Feb. 21.
More permanent substitutes and additional planning days uninterrupted by mandatory meetings were two of six key strategies that Richards and four teachers from the Staff Advisory Council discussed at the school board's Jan. 17 work session. The other four strategies included:
Revisit teachers' daily/weekly use of time with teacher input
Enhanced additional teacher support, such as additional teaching assistants or better-paid teacher assistants.
More focused professional development
Additional behavior support to help teachers work with challenging students.
Richards told The Citizen that additional behavioral support is "another price tag" — but something teachers desperately need.
He wrote in his email to HCPS staff that "several enhancements have been added to the budget for next year to enrich the support teachers receive to address behavioral challenges. Some of these additions add to the contract hours of select mental health professionals who support classrooms, and one addition would fund an alternative program that would benefit students with more severe behavior challenges."
Enhanced additional teacher support was defined by the teachers on the Staff Advisory Council at the Jan. 17 work session as a need for more teaching assistants for instructional support, but Richards said he wants clarification before moving forward with this proposed solution. He told The Citizen he's heard from several HCPS staff members that they just want teaching assistants to be paid more, but that he'll gather more specific information from the Staff Advisory Council at their meeting at the end of the month.
Carrie Martell, special education coordinator, told the board at Tuesday's meeting about a system, officially called "a multi-tiered system of supports," that would help to integrate several approaches at once with the goal of benefiting both teachers and students in the end.
Board member Kristen Loflin said she wondered if people might ask: is this another "thing" for teachers who already have an overflowing to-do list?
"We have some absolutely hard working, beautiful chickens with their heads cut off," Martell said. "They're working so hard, but they're going in so many different directions they can't focus in."
She said this system could feel like another "thing," but it's the one that "will make all the other things work together."
A professional development redesign is intended to ensure that staff members are only required to attend meetings that are relevant to their specific work area, Richards told The Citizen. He cited an example of a school nurse who had to sit through a meeting about how to set up a classroom.
He wrote that he and the Staff Advisory Council are planning to gather input from staff regarding how to improve the professional development program, and a committee of interested staff members will be created to redesign it.
"We need to listen, we need to work with people, we need to have shared problem-solving, which we're doing," Richards said at the close of Tuesday's board meeting. "Not imposing solutions on people, but working with people to solve the problems they're facing."

Public participation at school board meetings
Public comment has offered lively exchanges during city school board meetings in recent months.
Richards said the board is not required, constitutionally or by law, to have a public comment section during business meetings. However, he said public participation is important to the board and he agrees that opportunity for input should remain — but the board could tweak the rules to make the public comment period more constructive.
Board chair Deb Fitzgerald said the original intention of public comment was for speakers to address action items, such as policies to be voted on. She suggested creating two separate times for comment: one to address action items and one for general comments, which would be held at the end of business meetings.
Fitzgerald said the board has looked at a number of public comment policies across the state, and limiting public comment to 30 minutes is common. The board debated the costs and benefits of limiting public comment, but ultimately decided that the total time shouldn't be limited.
"I kind of like baby steps," board member Tom Domonoske said, referencing the division of public comment into two separate times. "I am suggesting that we make a change and see how it's working, and if we need to make another change, we make another change."
Richards said this topic "deserves more than one conversation," and the board decided not to approve the policy revisions yet. 

Rocktown High School update
Craig Mackail, construction supervisor for Rocktown High School, said crews painted the first wall "Rocktown red." The construction team installed bleachers on the athletic field, tiled the cafeteria kitchen and are working on the courtyard where students will bury a time capsule.
While construction is still on schedule, Richards reminded the public that the project will take time to complete despite how finished the school may appear. 
"It looks like it's ready," Mackail said, "but there's a lot of stuff to be done. A lot of stuff to be done."
---
Journalism is changing, and that's why The Citizen is here. We're independent. We're local. We pay our contributors, and the money you give goes directly to the reporting. No overhead. No printing costs. Just facts, stories and context. We're also a proud member of the Virginia Press Association. Thanks for your support.