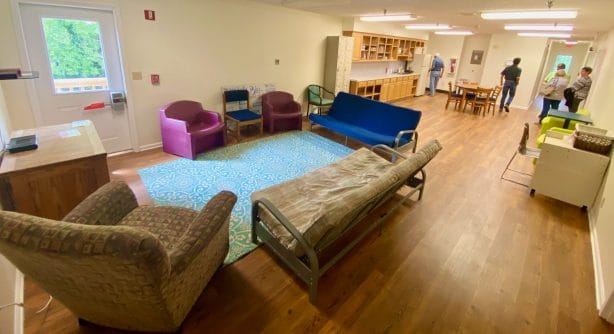 By Bridget Manley, publisher
Following a change in leadership after allegations of mismanagement, the Salvation Army reopened its emergency shelter on Jefferson Street in Harrisonburg, which comes as another organization — Open Doors — is still looking for a temporary place to reopen its shelter.
The Salvation Army began accepting residents at its Jefferson Street location on Friday afternoon and held an open house for the media and public to see the renovations and hear more about staffing changes in the wake of the problems that emerged earlier this year.
"I have to run a safe shelter, not only for the people coming in, but for my staff," said Salvation Army Capt. Duane Burleigh, who previously ran the shelter and who came out of retirement this spring to help address the issues in the wake of allegations staff and people staying at the shelter made regarding the emergency shelter's mismanagement, understaffing and disrepair.
The reopening of the shelter before the weather turns cold provides some relief in a city that suddenly had a shortage of beds for people experiencing homelessness. The organization Open Doors, which operated for the last two years from either the old Red Front grocery store building on Chicago Avenue or JMU's campus, is still looking for a temporary site until a permanent shelter is renovated and opens next year.
The Salvation Army shelter can house up to 38 people, and one of its priorities is to house women and children. Because of that, the shelter isn't considered a "low-barrier shelter."
Low-barrier shelters, like Open Doors in Harrisonburg, allows people to stay without requirements like proving sobriety, providing identification or proof of income or not having any outstanding warrants.
Hannah Bailey, administrative director for Open Doors, said the organization is continuing its search for a rental property for the shelter, but have not found one that fits its needs yet.
"We face challenges with the lease not being the right length, the location being near retail, and that's not idea for us," Bailey said. "Since we typically service over sixty individuals, the structure of the property really makes a difference. We need a property that can safely serve sixty individuals."
While the city of Harrisonburg recently announced that they had purchased a property on North Main Street in Harrisonburg to permanently house the Open Doors shelter, that facility will be undergoing renovations and will not open until some time next year.
Bailey said that while they hope for a rental space, they may have to go back to piecing together a "mobile model" for the thermal season, which begins in early November. The mobile model consists of several churches that donate their space for several weeks at a time to the shelter to use. Open Doors relied on that model before the covid-19 pandemic began.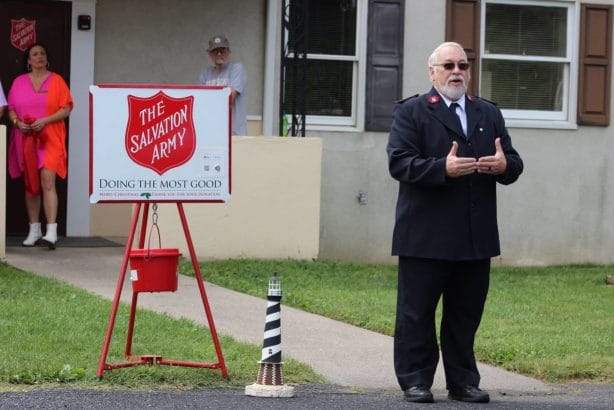 Salvation Army 'ready to rock'
Burleigh said the Salvation Army's shelter is now fully staffed. Understaffing was one of the major issues that former employees said was putting both the residents and staff in danger last winter.
"We have hired enough people," Burleigh said. "We have a shelter director in place, who is very capable of doing case management and has [done so] in the community for many, many years. And he is more than capable of helping people progress through their homelessness situation into a positive situation."
The shelter has also hired shelter monitors and made needed repairs and renovations.
"The men's bathroom is completely new. The two downstairs bathrooms and the handicapped bathrooms have been completely redone," Burleigh said.
Light fixtures have been replaced, beds and bedroom furniture have been repaired and sanitized, and laundry facilities are all brand new.
The shelter's two wings — a men's side and a women's side — have warm and inviting decors. There is new lounge furniture, toys for children, and other touches that make the space feel comforting.
"I'm ready to rock," Burleigh said.
The Salvation Army shelter has qualifications for those who stay there in order to keep safe the people who stay — and those who work — there. Residents must get a pass from the Harrisonburg Police Department that confirms the guests do not have any outstanding warrants and have been cross-checked against the sex offender registry. People who stay at the shelter are not allowed to be under the influence of drugs or alcohol and are not allowed to have weapons.
Because of overworked shelter monitors and poor training, many of the protocols were often overlooked by staff members, former staff members told The Citizen in March. Burleigh said staff have been fully trained in all protocols for intake.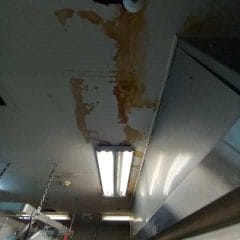 Timothy Blum is one of the newly hired shelter monitors and this a return of sorts for him. Blum was a resident at the shelter last year and said the shelter has undergone a metamorphosis between what he experienced as a resident and what it looks like today.
Blum said his previous experience was "stressful," but says the new management at the Salvation Army has made the shelter a much more inviting place.
"When I was homeless, there were less resources available, and none of the resources were working together, so we are going to try to fix that," Blum said.
Blum said he feels safer as an employee now that improvements have been made to management and to the building, and says he is excited to help residents feel safe and help get them back on their feet.
"We are going to make sure that they are not afraid," Blum said. "Everybody that we bring in are going to be working to get out of the situation the same way that I did back then, instead of just getting a bed and then being ignored for a few months. That's not our goal anymore."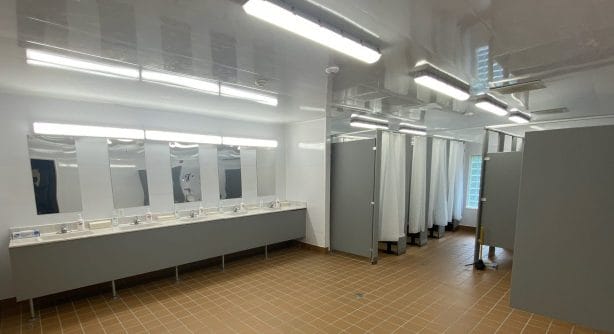 Chipping away at the shelter crunch
In the meantime, other stakeholders in the community are working together to find additional solutions for those experiencing homelessness in the community. 
Mayor Deanna Reed, who has been advocating for a permanent location for Open Doors for years, has pleaded with the community to help find a temporary solution and held a meeting with stakeholders to find a solution that can bridge the gap until the permanent shelter can open. 
Bailey, from Open Doors, said the goal of the meeting between Reed and the stakeholders was to engage in solutions to address the issues surrounding homelessness, and offer support to closing the gaps that keep people from attaining housing.
"There is a high level of homelessness in Harrisonburg right now," Bailey said. "We do have access to some resources to combat that. We have shelters, we have food pantries, rapid rehousing services, homelessness prevention, and housing choice vouchers. But right now, we are seeing a crisis with homelessness because we do not have enough affordable housing in our area. Although we have all these services, it's really hard to utilize them when the houses don't exist."
But for now, the Salvation Army's shelter's reopening is at least one place that can serve those who need it.
"Hopefully if we can turn people around and get them headed in the right direction and get them back on their feet and into housing, we can bring in more people," Burleigh said. "We can't cover the hundred or so people that are out there, but at 38 at a time…we are here just to do whatever we can do to end [homelessness] for those that want to end it." 
---
Journalism is changing, and that's why The Citizen is here. We're independent. We're local. We pay our contributors, and the money you give goes directly to the reporting. No overhead. No printing costs. Just facts, stories and context. We're also a proud member of the Virginia Press Association. Thanks for your support.