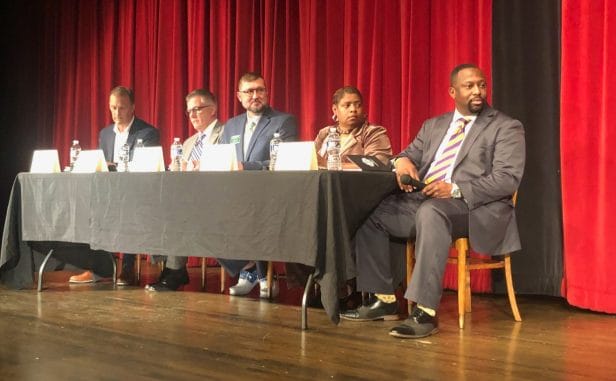 By Ryan Alessi, publisher
Even as city council candidates painted different pictures of Harrisonburg, the five contenders on the Nov. 8 ballot found some common ground Wednesday when it came to the role of police, and specifically in supporting diversity among the ranks.
"Help tell our neighbors who are Black and Brown that we need to get away from the stigma that is associated with being a police officer. We need more officers of color in the ranks," said Monica Robinson, a Democratic candidate, at Wednesday evening's city council candidate forum at Court Square Theater.
The forum — co-sponsored by the Shenandoah Valley Bicycle Coalition, JMU's Center for Civic Engagement, The Breeze and The Citizen — marked the only debate this fall among the four candidates running for two city council seats, as well as Chris Jones, who is running unopposed in a special election to fill out the remaining two years of the term vacated by George Hirschmann, who resigned in May.
While the discussion got feisty at a couple of points, the candidates largely avoided the acrimony that has permeated national politics and, instead, kept focused on their different visions of Harrisonburg's present and future.
Robinson, co-founder of the Harrisonburg-Rockingham NAACP and executive director of the Shenandoah Valley Black Heritage Project, suggested that to hire police officers who reflect Harrisonburg's diversity, it will require talking with younger children of color. That, she said, is what's needed to change their perceptions about a profession that nationally "has a history of causing such harm and death to our community."
Marshall Orenic, an independent, said he agreed with Robinson.
"Those people of different backgrounds that we talk about that we want to come here, they're not out there because, as Monica said, they're not wanting to be police officers," Orenic said. "So we need to figure out why and help encourage them to do that."
Policing and crime have come into sharper focus in recent days in the wake of two high-profile shootings: one that injured eight people at an Oct. 16 gathering on Devon Lane and the fatal shooting of a 38-year-old man on Community Street on Monday.
Dany Fleming, a Democrat and chair of the Harrisonburg Redevelopment and Housing Authority, praised the police department for its approaches to connect with residents.
"We have a strong department that's willing to engage. They do community policing. They do mental illness crisis teams," he said. While he said gun violence has gone up and use of certain drugs, such as meth, has increased, "our overall crime rate has gone down." Some crime statistics, including the total number of reported crimes, did drop between 2018 and 2020, according to the city's yearly crime statistics.
But even with narrow points of agreement among the candidates, the two independents, Orenic and Rick Nagel, positioned themselves as outsiders seeking to bring different ideas to the council. And both independent candidates ended up sparring with Jones at different times, even though Jones isn't running against them.
Orenic, for instance, said the city council should raise the police pay to slow attrition that earlier this year led to 21 open positions out of 112 in the police department. Orenic credited the city council for approving a 5% pay increase and retention bonus for city workers, but also used it to set-up a jab.
"City council did a great job of taking care of city employees this past year … and I applaud them for that," Orenic said. "But what a lot of people don't realize is that they also gave themselves a raise. And that raise was a 50% raise."
Jones interjected, asking Orenic to tell the audience the dollar amounts.
Orenic added that the raise was $6,000, bringing the annual salary for council members to $18,000 up from $12,000. The council approved the raise in May, although it won't take effect until next July. It was the first pay increase the council approved since 2004.
"Divide it by the hours that you put in," Jones told Orenic.
"How many hours do you put in, Chris?" Orenic responded.
Nagel, who spent part of his career in law enforcement and now runs a government relations firm, said the city should not only raise police salaries but also "cast a net far and wide" for potential officers.
"That's what we need — we need innovative ideas. And Mr. Jones has been on the city council for many, many, many years. And why are we still having these problems?" Nagel asked.
Jones, who was first elected to the council in 2014, responded: "Be realistic Rick, let's be honest … People have pulled out of the market because of the great resignation."
The candidates' differently tinted lenses about Harrisonburg extended to economic issues.
Nagel twice on Wednesday mentioned that the average $45,000 salary of workers in Harrisonburg is low and that 4,000 people remain on a waiting list to get access to affordable housing.
"I've even been told the climate here is really bad for business," Nagel said, adding that he wants the city council to focus on attracting technology and manufacturing jobs.
Orenic, who has worked in restaurant management, said the city is running low on available space for businesses and some are "moving out of the city because in their words, it's too difficult to run a business in the city."
The three Democrats offered a rosier view.
Fleming said Harrisonburg's educated workforce with the proximity to JMU, EMU and Blue Ridge Community College makes it an attractive place for companies to invest. But he said other conditions for workers and their families are squeezing people, including the relative scarcity of childcare and affordable housing.
"The real issue is we haven't built additional affordable housing here in almost a decade, and if we want to meet that need, we have to build that supply," Fleming said, adding that the city would need to provide incentives for developers.
Both Robinson and Jones pointed to the diverse types — and owners — of small businesses and restaurants in the area, in large part because of immigrants and refugees from across the globe who moved here.
"I really don't understand the doom and gloom that I hear sometimes when people are describing our town," Jones said. "Are there issues that pop up that scare us? … Sure. And I think together we can build a better 'burg." 
---
Journalism is changing, and that's why The Citizen is here. We're independent. We're local. We pay our contributors, and the money you give goes directly to the reporting. No overhead. No printing costs. Just facts, stories and context. We're also a proud member of the Virginia Press Association. Thanks for your support.