Category:
Harrisonburg Politics
Page 18/19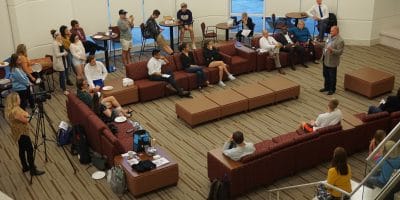 The five city council candidates tried Wednesday evening to appeal to bloc of potential voters that often eludes them—especially in midterm election years. But even the students who showed up to the Traveling Town Hall stop at JMU's Grace Street Apartments weren't exactly sure, at least at first, how the city council affects them.
Phillip Wong, a junior psychology major, was one of the few students to ask any questions of the council candidates: Democrats Chris Jones and Sal Romero Jr. and independents Carolyn Frank, Frank McMillan and Paloma Saucedo. The five are vying for two spots on the council.