By Ryan Alessi
Candidates frequently use the old cliché: The only poll that matters is on Election Day. Voters will reveal those results of that all-important poll tomorrow. In the meantime, here are some plots and subplots to pay attention to as vote tallies start rolling in Tuesday evening:
First the obvious: How the heck will the city council race sort itself out?
Five candidates are going for two spots. And all five have campaigned aggressively while carving out different niches for themselves in a largely polite, if competitive, race.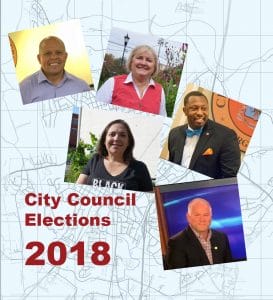 Ideologically, these five cover a wide swath of the political spectrum, which is making an unpredictable race even more intriguing.
Two of the candidates—Chris Jones and Sal Romero—are running as Democrats.
Three—Carolyn Frank, Frank McMillan and Paloma Saucedo—are independents, although they're quite different from each other.
McMillan is backed by the Harrisonburg City Republican Party. McMillan and Frank have taken fiscal conservative positions with both expressing concerns about the $76 million cost of a new high school. (The other three—Saucedo, Jones and Romero—have expressed unconditional support for building a new high school to ease overcrowding at Harrisonburg High School.)
Saucedo, meanwhile, has staked out some of the most progressive stances in the race on many issues, including calling for Harrisonburg to be a sanctuary city and the closure of the U.S. Immigration and Customs Enforcement, ICE, office in town.
A pair of candidates, Jones and Frank, have council experience and are both former mayors. Jones is the only incumbent running. Frank was Harrisonburg's first woman to serve as mayor.
Romero ran unsuccessfully for council once before but since then served on the state Board of Education. And McMillan and Saucedo are making their first bids for public office and have highlighted their status as political outsiders.
All that is setting up an Election Night in which just about any combination of winners is conceivable, depending, in part, on these subplots:
How will Harrisonburg voters who favor Democrats split up their votes among Jones, Romero and Saucedo?
Would name recognition carry those, like Jones and Frank, who have served before or will voters prefer newcomers?
Will Harrisonburg, which has a Latino population that makes up nearly 20% of residents, finally elect the first Latino—or first and second—to city council with Romero and Saucedo?
Could voters end up electing the most progressive candidate, like Saucedo, and McMillan, who has most aggressively courted conservatives?
What effect, if any, could JMU students have on local races this time?
College students are less likely to vote than other citizens, especially in non-presidential elections. The turnout among college students in the last midterm election in 2014 was 18.8%—about half the overall turnout rate of 36.4% that year. And it was even worse among JMU students at 8.8%, according to the National Study of Learning, Voting and Engagement through Tufts University.
This time, though, JMU students have their own precinct on campus at the Convocation Center, which first opened for the 2016 Election. And the Dukes Vote organization, run out of the James Madison Center for Civic Education has focused its efforts to increase awareness and interest in the election and participating in democracy by voting.
While younger voters tend to favor Democrats, The Citizen's analysis showed JMU students don't seem to be the most reliably Democratic voting bloc in Harrisonburg.
So it's worth watching:
Will students vote in greater numbers?
Will one party—or specific candidates who have targeted student voters—benefit from a stronger-than-expected student turnout?
What might the 6th Congressional District race reveal about future state legislative races in Harrisonburg and Rockingham County?
If history and voting patterns hold, Republican Ben Cline is most likely to win the 6th Congressional District, which stretches from Lynchburg west to Roanoke, then follows I-81 to up Front Royal. The district has been reliably Republican since U.S. Rep. Bob Goodlatte replaced Democratic U.S. Rep. James Olin in 1993. Goodlatte won each of his 13 elections with at least 60% of the vote.
With Goodlatte retiring, Cline, a state delegate and lawyer from Lexington, has the inside track against Democrat Jennifer Lewis, a community activist and mental health worker from Waynesboro. Still, both have run aggressive campaigns, raising six-figures in contributions, making campaign stops, running television ads and mobilizing volunteers to go door-to-door starting in the summer.
If those same historical voting patterns hold, Jennifer Lewis on
Tuesday will garner more votes than Cline in Harrisonburg. In 2016, Democrat Kai Degner, a Harrisonburg councilman, beat Goodlatte in three of the district's 19 jurisdictions: Roanoke City, Lexington and Harrisonburg.)
Degner's margin in Harrisonburg was nearly 2,500 votes during a presidential election year with heavy interest on both sides.
The following year, in the 26th District state delegate race, Republican incumbent Tony Wilt defeated first-time Democratic candidate Brent Finnegan in the district that featured nearly the same number of votes from Harrisonburg as from the surrounding Rockingham County precincts (10,192 from the city and 10,178 in the county).
Finnegan won the city by 2,775 votes, while Wilt won all 15 precincts in the county, which includes Broadway, Timberville, Mt. Clinton and Dayton. (Part of southern Rockingham County is in the 25th District, while the eastern portion falls in the 58th District.)
So could Tuesday's results indicate a widening gap between the preferences of county and city voters?
Or could it reveal potential opportunities for a Republican to cut into a Democrat's support in certain city precincts or, conversely, show county precincts that might be more open to supporting a Democrat?
What will four other Virginia congressional races reveal early in the evening about control of the U.S. House?
Looking at one particular race as a bellwether can sometimes be misleading (small sample size and too many specific variables). But results from four or five races could signal a trend. Virginia, because of its purple position in recent elections, features four competitive races that, when taken together, could offer an early hint (polls close at 7 p.m. EST) about how the night could go for national Republicans and Democrats fighting for control of the U.S. House where Republicans have a 23-seat majority. (The New York Times reports that political strategists from both parties think Democrats could pick up 35 seats.)
In Harrisonburg's neighboring 5th District that covers Charlottesville and the surrounding area, Republican Denver Riggleman and Democrat Leslie Cockburn are competing for an open seat to replace Republican Rep. Tom Garrett.
On the other side of that district, voters in the Richmond area will determine whether they want to re-elect Republican U.S. Rep. Dave Brat, a Freedom Caucus member, or replace him with Democrat Abigail Spanberger, an ex-CIA agent. Election tracking sites have bounced the 5th District between leaning Republican to toss-up. And the campaign has taken twists and turns, most recently when Spanberger unmasked a Republican spy in her campaign last week.
A hundred miles north, Republican U.S. Rep. Barbara Comstock is fighting to keep her job for a third term in the face of a strong challenge from state Sen. Jennifer Wexton. Election analysis sites have the district tilting or leaning toward Wexton.
And in the Virginia Beach-Hampton Roads area, Republican U.S. Rep. Scott Taylor is in a tough race for his second term against Democrat Elaine Luria.
If Republicans hold onto the seats they currently control with Brat and Taylor winning re-election and Riggleman keeping the 5th District in GOP hands, it increases the likelihood that whichever party emerges with the majority in the U.S. House on Wednesday, it will be a slim one. If Comstock also wins, it would indicate a tough night for Democrats.
Conversely, if Democrats pick off three or more of the Republican-held seats, it could portend a blue wave that Democrats have hoped for to take control of the U.S. House with a comfortable majority.
Who's going to win the Harrisonburg City School Board seats?
Kidding. Just wanted to see if you'd get to the end of this article.
Three seats. Three candidates. This one we can confidently call.