UPDATED 3:38 p.m. March 29: This post was updated to reflect that only one Democrat, Jennifer Kitchen, properly filed paperwork by Thursday's deadline to run in for the 25th state House District.
By Bridget Manley
The ballots are set for the contenders vying for legislative seats representing the Valley. And the action on the campaign trail will increase soon, especially for the first intra-party campaign that will be decided in a "firehouse primary" next month.
Now that the filing deadline for candidates running for Virginia's House of Delegates and state Senate passed on Thursday at 5 p.m., Virginians now know which incumbents face competition — and whether that's in a primary or the November general election (or both).
While the complete list of candidates will be available next week through the Virginia State Board of Elections website, The Citizen offers this primer, breaking down the races that affect Rockingham County and Harrisonburg in the 2019 election year.
HOUSE OF DELEGATES RACES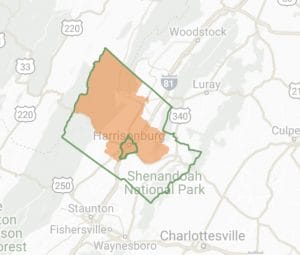 The 26th District:A case of deja vu, this race features Brent Finnegan and Cathy Copeland running for the Democratic nomination, in a rematch of the 2017 primary. Finnegan won the firehouse primary two years ago, in which voters came out to a central location to vote instead of regular voting precincts. But this time around — and after both Copeland and Finnegan called for the race being decided during the statewide primary election in June — voters will choose the democratic nomination at their normal polling locations on June 11th.
Copeland told The Citizen: "I'm looking forward to continuing to demonstrate why I'm the best choice for House District 26. I believe a Delegate's most critical role is enacting legislation — and I love policy because good legislation leads to a better Commonwealth….This House district is flippable, as Sen. Tim Kaine showed us in 2018."
Kaine received more votes than Republican U.S. Senate candidate Corey Stewart in the precincts that make up the 26th District.
Finnegan said he is campaigning using the same "collaborative, community-led approach" he'd take with governing.
"We've been having kitchen table conversations in peoples' homes to talk with people from different political stripes to discuss problems the media isn't covering, and also to try to find common ground," he said. "One think that keeps coming up is frustration that local governments don't really have the power that allows us to solve our own problems at the community level. We've been disempowered by politicians from both parties consolidating power in Richmond. That's got to change."
The winner will go one to challenge incumbent Tony Wilt in the general election. Wilt defeated Finnegan in the 2017 general election.
Wilt, who was honored with an award by JMU College Republicans on March 22, told the audience of 80 people at that dinner that part of his philosophy is of governing is to be responsible with money and government's reach. And while he didn't reference either of his potential opponents, he said "the other party" tends to over-promise.
"I think a lot of them mean well … I, too, love the idea of utopia and everything all being perfect, but ladies and gentleman, that's not the world that we live in," he said, adding that it's not realistic and part of governing is having to say "no" sometimes.
All three — Wilt, Finnegan and Copeland — already made a joint appearance to outline their opening argument to voters during a "Traveling Town Hall" event last week at JMU.
The district covers Harrisonburg and part of Rockingham County.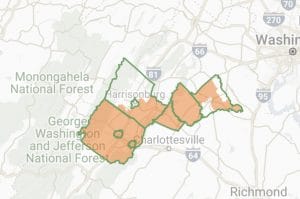 The 25th District: One of this month's surprises was the announced retirement of longtime Republican state delegate Steve Landes. Three Republican candidates came forward almost immediately for the nomination: Chris Runion, Marshall Pattie and Richard Fox.
Rockingham County Republican Committee Chariman Dan Cullers told The Citizen that they had decided in December to hold a party canvass — more commonly known as a firehouse primary — before the unexpected announcement from Landes.
"It was a surprise to all of us," Cullers said.
The firehouse primary will be held on April 27, and Rockingham County voters can vote at the Bridgewater Town Office from 10 a.m. to 4 p.m. Cullers says he's excited for the candidates to express their views to the public in three forums in April. Two of them will be held in Harrisonburg.
Cullers said the party has three strong candidates who will energize the party. "I think it's exciting as a party leader," Cullers said, "because it really brings people into the process."
Meanwhile, Democrat Jennifer Kitchen announced her candidacy before Landes's decision not to run. Kitchen was the only Democrat to file her proper papers by the 5 p.m. deadline Thursday and will face the winner of the Republican primary in the November general election.
The district covers Albemarle, Augusta and Rockingham counties.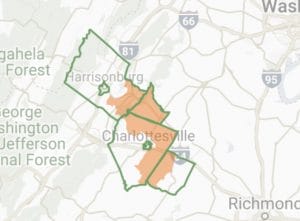 The 58th District:Democrat Elizabeth Alcorn, a healthcare advocate, is running against Republican Del. Rob Bell in the November general election.
Alcorn said she is running a platform based on affordable comprehensive healthcare, education, and infrastructure like rural broadband.
"I'm running because my opponent ignores rising healthcare costs, prefers junk health insurance plans, and routinely blocks bipartisan legislation across the board," she told The Citizen.
Bell, who has held the seat since 2002, lost a bid for Virginia's Attorney General in 2013. Bell didn't return a request for comment.
The district covers Rockingham, Albemarle and Fluvanna counties, and all of Greene County.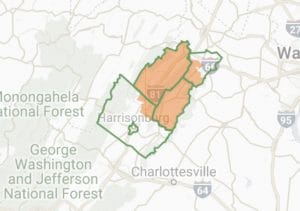 The 15th District: The candidates for this one are also set. Democrat Beverly Harrison, a child advocate, will challenge Republican incumbent Todd Gilbert, the House majority leader, in the November general election.
"I decided to run for delegate in District 15 because our community needs an accessible representative who is always listening and available," Harrison told The Citizen. "Our people and local businesses need to come first. The only way make that happen is by listening to their needs, hopes, goals and ideas for realistic solutions. It is time we have a truly local representative, not someone advancing party politics or representing outside agendas."
Republican Todd Gilbert as been the representative for the seat since 2006. He has served as the Virginia House of Delegates Majority Leader. Gilbert didn't return a request for comment.
The district represents parts of Luray, Page, Warren and Rockingham counties.
STATE SENATE RACES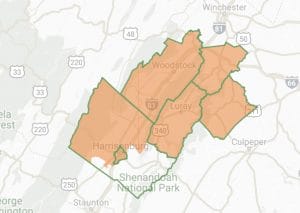 The 26th Senate District: Democrat April Moore is challenging incumbent Mark Obenshain for the second time in November; setting up a rematch of the campaign in 2016.
Obenshain defeated Moore in the 2015 general election with more than twice the number of votes—25,042 to 11,308. He won all but one of the jurisdictions in the district. Moore finished with about 100 votes more than Obenshain in Harrisonburg.
Obenshain told The Citizen that it's been an honor for him to serve his district.
"I love my job. I love working for the people of the Shenandoah Valley and fighting for limited constitutional government, personal freedom and individual responsibility," he said. "There is much more to be done in the areas of economic development, public safety, transportation, and in protecting Virginians from governmental overreach. I hope the voters in the 26th District will allow me the honor to serve them in the Senate for the next four years."
The senate district covers much of Rockingham, Shenandoah, Page, Warren, and Rappahannock counties.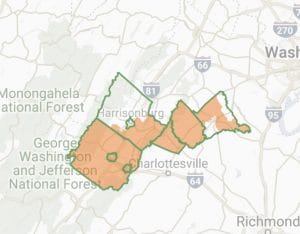 The 24th Senate District:In a comparatively rare primary against an incumbent this year, Tina Freitas is challenging incumbent Senator Emmett Hanger for the Republican nomination.
Hanger, who has held the seat since 1996, served in the Virginia House of Delegates in the '80s and '90s before losing to Democrat Creigh Deeds of Bath County.
Freitas is a community volunteer who describes herself as a constitutional conservative and is the wife of Delegate Nick Freitas.
The Republican legislative district committee for the 24th decided to hold a statewide primary for the Republican nomination, Cullers said. The two will face off on June 11th in the state wide primary.
Whomever wins the Republican nomination will face off again Democrat Annette Hyde. Hyde, a yoga teacher, said she wants to provide solutions on issues such as internet access, health care and education.
The 24th District covers the cities of Staunton and Waynesboro, as well as all of Greene, Madison and Augusta counties and parts of Rockingham and Culpeper counties.
Local Races Worth Keeping An Eye On
Candidates seeking local office have until June 11th to file for candidacy. They do not run in the primaries.
In Rockingham County, they include:
commonwealth attorney (where incumbent Marcia Garst has already filed for candidacy);
commissioner of revenue;
sheriff;
treasurer;
Rockingham Board of Supervisors (only incumbent William Kyger has filed for candidacy thus far);
Rockingham County School Board Districts 2, 4 and 5;
soil and water commissioner;
and Broadway council members and mayor.
---
Journalism is changing, and that's why The Citizen is here. We're independent. We're local. We pay our contributors, and the money you give goes directly to the reporting. No overhead. No printing costs. Just facts, stories and context. Thanks for your support.