By Jeremiah Knupp // photos by Holly Marcus
Several hundred area Republicans gathered at the Rockingham County Fairgrounds Thursday evening for "Oysters with Obenshain," the annual campaign fundraiser dinner for State Senator Mark Obenshain. At this year's event – featuring former Wisconsin governor and 2016 Republican presidential hopeful Scott Walker – the focus was on more than Obenshain's attempt to win a fifth term. It served as a kick-off for the 2019 campaign season where Republicans are seeking to maintain their majorities in the General Assembly and looked beyond this fall to the 2020 presidential election.
"Who feels ready to go out and do some campaigning?" newly elected 6th District Congressman Ben Cline asked the crowd. "Are you ready to go get to work?"
With all 40 State Senate and 100 House of Delegates seats up for grabs this November, the dinner's guest list was a who's who of local Republican politicians, including 26th District Delegate Tony Wilt, Tina Freitas, who is seeking to unseat 24th District Senator Emmett Hanger, and Chris Runion and Marshall Pattie – two of the candidates vying for the Republican nomination to replace retiring 25th District Delegate Steve Landes. On a state level, the November election will be critical, with Republicans holding a razor thin majority in both chambers of the General Assembly and redistricting to follow the 2020 Census.
"We really do have the future of Virginia at stake this year," Obenshain said.
While recent elections have seemed to indicate momentum behind the Democratic Party in the state, this spring a series of scandals rocked the three Democrats that make up the state's executive branch. On Thursday night, local Republicans made clear that they would not let those scandals go to waste.
"We have a Lieutenant Governor who is facing serious criminal allegations and I just don't have a lot of patience for people suggesting that Republicans are hostile to the interests of women," Obenshain told the crowd.
Obenshain has served as the state senator for the 26th District since first winning the election in 2003. He has faced opponents in three of his elections, with his slimmest margin of victory in his first race, when he garnered 67.9 percent of the vote. In 2015, he defeated Democratic candidate April Moore with 68.7 percent of the vote. In January Moore announced that she would once again challenge Obenshain for his senate seat.
Obenshain stressed that Republicans couldn't take any seat for granted.
"The Democrats have their eyes on some of these seats where traditionally they wouldn't have a prayer," he said, referring to the race where Wilt will face one of two Democrats running for their party's nomination. "What we're going to do is show them that there is no way they're going to touch us in the 26th House District."
Over the years the event has featured keynote speakers from Virginian Republican politics, including Ed Gillespie, Bob Goodlatte, Bob McDonnell, Ken Cuccinelli and George Allen. This year, the main attraction was a national figure – former Wisconsin governor Scott Walker. Walker served as governor from 2011 through January of this year, and drew national attention when he ran for president in 2016. Obenshain served as Virginia chairman for Walker's short-lived presidential campaign.
Walker's staunch conservative credentials make him a natural fit among Valley Republicans. As governor he was known for cutting taxes, supporting charter schools, instituting voter ID laws and fighting the state's public employees' union. Walker pointed out another way that Virginia could follow in Wisconsin's footsteps. After supporting Obama in two elections the state went for Trump in 2016.
"If it can happen in Wisconsin it can happen anywhere in America," he said.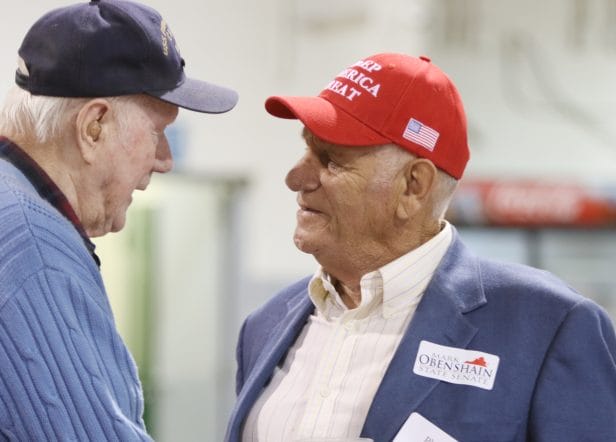 Like Walker, Obenshain looked forward to Republican victories in 2019 and beyond.
"We are going to increase our majorities this year. We are going to bring good government back to the Commonwealth of Virginia. We've got to reach out to voters across Virginia and tell them, our principles and ideals, they're going to make a difference in your life on a day-to-day basis," he said before exiting the stage to a standing ovation. "We're going to win this year. We're going to win next year. We're going to put a Republican in the governor's mansion in three years."
---
Journalism is changing, and that's why The Citizen is here. We're independent. We're local. We pay our contributors, and the money you give goes directly to the reporting. No overhead. No printing costs. Just facts, stories and context. Thanks for your support.