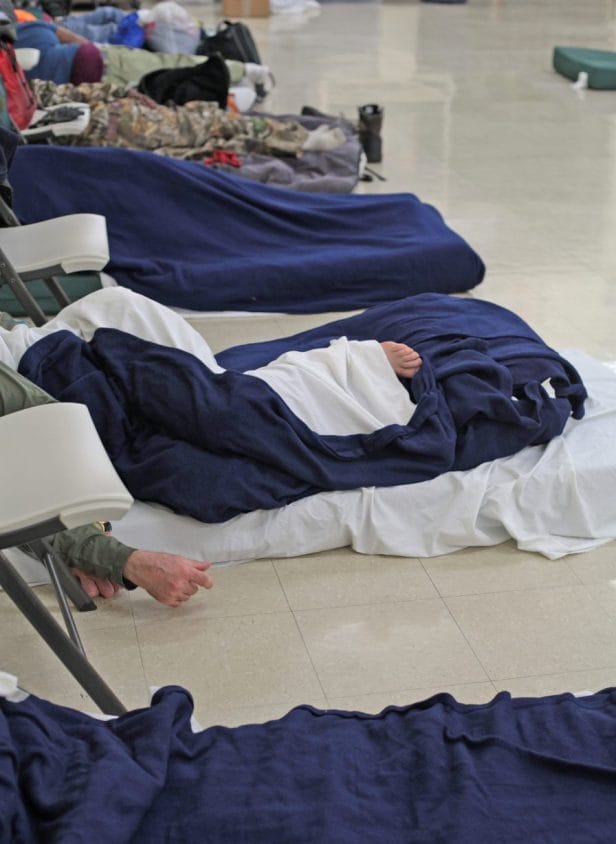 By Gracie Brogowski, contributor
As the weather has gotten colder, groups that work with Harrisonburg's homeless population have had to get creative, especially during a period in which the city doesn't have a permanent shelter for the first time in two years.
Nate Riddle, spokesperson for Open Doors, said the organization that provides shelter for people experiencing homelessness tried to find a long-term solution to bridge the gap between this summer, when the facility the group was using at JMU was no longer available and next year, when the city's permanent shelter is expected to open.
Instead, Open Doors, has returned to the model it used before 2020 and will operate a shelter in different places.
"We've worked diligently. We've viewed over 15 properties, but for one reason or another, hasn't worked out for us to sign a lease for a continuous shelter," Riddle said. "So we are excited to provide services through the rotating model. It's maybe not the most logistically desirable method of providing services. But our mission … is to ensure that we are providing warmth and shelter to our guests, so we have to do it via the rotating model."
The organization uses churches, conference centers and the local mosque as the shelter rotates locations.
That's how it had operated before the pandemic, shifting between different churches to provide a warm place to stay for people during the winter months. In fall 2020, Open Doors moved into the building vacated by the Red Front Supermarket, which closed in March 2020. But when that building's owner began preparing for its sale in early summer 2022, the shelter moved to JMU's campus, where it remained until students returned in August for the fall semester.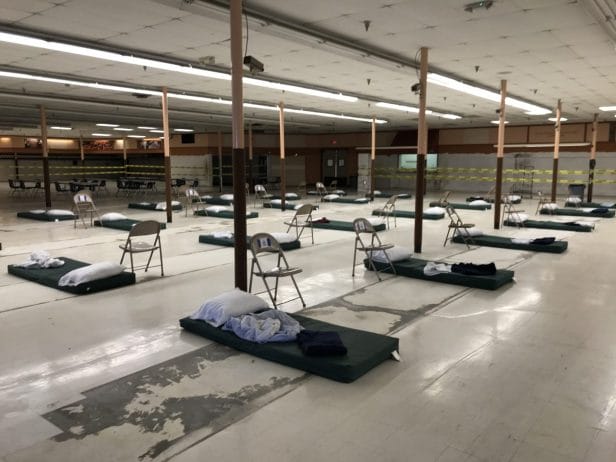 City officials also had hoped Open Doors would find a single place at which to operate the shelter until a permanent shelter opens in the building on North Main Street that had been the Presbytery of Shenandoah. The city purchased the land and building earlier this year, using $700,000 in federal funds from the American Rescue Plan Act (ARPA). The city's plan is to have an overnight low-barrier shelter and cafeteria and also construct a homeless services center on the property. The total project is expected to cost about $5 million, and the overnight low-barrier shelter would be first to open, potentially before the end of next year or early in 2024.
Amy Snider, the acting deputy city manager, told the city council last month that the city would engage in a contract with an organization to run the shelter. The city hired MTFA, an architect firm that has experience with building other homeless shelters in Virginia, Snider said.
Riddle, from Open Doors, said hiring a firm that has built other shelters is a positive.
"We're confident that MTFA will not only design a practical shelter, but one that is trauma-informed the one that serves the community's needs today and that will be leveraged and prepared to serve the community's needs in the future," he said.
Snider also used the term "trauma-informed" when discussing the shelter's construction at the Nov. 22 city council meeting. She said it meant the architects understood that many people experiencing homelessness have experienced — and often are in the process of experiencing trauma. Creating dividers between sleeping areas to allow for privacy, for instance, are design elements meant to address that, she said.
"They bring to this a lot of consideration… for the experiences of those staying at the shelter," Snider said.
The Salvation Army also reopened its emergency shelter this fall. It can house up to 38 people, but it prioritizes women and children and enforces rules, such as requiring a police background check on people staying there. For those reasons, it's not considered a low-barrier shelter.
Along with Open Doors and the Salvation Army, the organization Our Community Place helps people who are homeless, as well as low-income residents and others who are considered marginalized.
"We try to provide a variety of services that meet both short term and long term needs," said Sam Nickels, Our Community Place's executive director. "So short term needs would be things like food, a shower, laundry, bathroom, etc. And then we try to help people with long-term needs like finding work or a job, getting disability income if they're disabled, helping them to obtain housing vouchers for housing and other long term needs."
The organization's staff also helps people with important necessities to get back on their feet, such as assisting them to get an ID so they can work, guiding them toward more resources and also offering volunteer opportunities. They also focus on getting people proper treatment for medical needs and addiction recovery.
Although Our Community Place doesn't provide overnight assistance, the organization does expand its hours during the winter.
And it puts a focus on helping people develop relationships.
"Just that one of our goals is to treat people with dignity and respect and tend to create social connections of support for folks," Nickels said. "Because life is much more than getting a job or much more than having a place to live or having a place to do your laundry. Life is about connections and meaningful relationships."
That includes offering fun activities and game days.
"We do field trips. We have lots of volunteer opportunities for people who are homeless so that they can give back and they can help others," he said. "So yeah, we try and do a lot more than just be a day program."
Officials at the organizations aimed at helping people experiencing homelessness said acting with empathy is something everyone in Harrisonburg can do to help.
"Don't forget about the guest that are … living this, this reality that most of us couldn't imagine," Riddle said.
— Ryan Alessi contributed to this article with reporting from the Nov. 22 city council meeting.
---
Journalism is changing, and that's why The Citizen is here. We're independent. We're local. We pay our contributors, and the money you give goes directly to the reporting. No overhead. No printing costs. Just facts, stories and context. We're also a proud member of the Virginia Press Association. Thanks for your support.